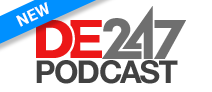 Glossary Spotlight
Finite Element Method (FEM)
A means to approximate partial differential equation (PDE) discretizations (discrete counterparts transferred – with some amount of error – from continuous functions, models, variables and equations) with numerical model equations in order to break down large problems into simpler finite elements that can be solved via numerical methods. Studying a phenomenon with FEM is known as finite element analysis (FEA).
View Finite Element Method (FEM) term
Glossary
A
B
C
D
E
F
G
H
I
J
L
M
N
O
P
Q
R
S
T
V
Digital Engineering
Featured DE Contributors
Subscribe to Digital Engineering Free E-mail Newsletters
Stay up-to-date, don't miss a single news story or product review, subscribe today.
Latest Posts
Design
SOLIDWORKS 2021 highlights, KIA uses Varjo ARVR and Autodesk VRED, NVIDIA announces Omniverse
SOLIDWORKS 2021 highlights, KIA uses Varjo ARVR and Autodesk VRED, NVIDIA announces Omniverse
Design
ParaMatters 4.0 Generative Design Software Opens New Door to Automation
Autonomous generative design platform offers structural and thermal design and analysis, support structures and build orientation optimization for entire design-to-manufacturing...
Promoted Post
How to Leverage High-Strength 3D Printing
Can't figure out how to integrate high-strength 3D printing into your manufacturing workflow? Try a new perspective.
Learn more.
Presented by
Simulate
Sandvik to Buy Software Company CGTech
Combined machining expertise of Sandvik Coromant and CGTech will enhance the Group's capabilities in machining intelligence and strengthen the software...
Prototype/Manufacture
US Government's DLA Awards 6K a near $1M Program to Convert Metals into AM Powder
The Phase II program supports the development and commercialization of a domestic and commercially scalable supply chain for high-performance metal...
Prototype/Manufacture
MxD Awarded $15 Million to Boost U.S. Manufacturing's COVID Response
CARES Act Funding will support supply chain resiliency, medical device deployment and pharmaceutical industry production.
Prototype/Manufacture
VELO3D Unveils Sapphire XC, Large-Format 3D Metal Printer
The company also announced plans to roll-out Sapphire Gen 2, which will be a software and hardware upgrade to the current...
Editor's Picks: Oct. 15-21, 2020
One of the picks will be chosen as DE's Editor's Pick of the Week.
Prototype/Manufacture
EOS and Ansys Debut Additive Manufacturing Workflow
Collaboration said to speed part design, reduces production costs, increases productivity for aerospace, oil and gas and many other industries.
Prototype/Manufacture
Additive Manufacturer Green Trade Association Announces New Members
Twelve companies from eight countries commit to promote sustainability in AM.
Prototype/Manufacture
Eaton Launches Metal 3D Printing Program
A global deployment of 3D polymer printing technology is slated to be completed by first quarter 2021.
Design
Editor's Pick: A comprehensive toolset for electronics design and testing 
Keysight Technologies PathWave suite update includes five new modules to help engineers remove computational limitations that traditionally make electronics design...
Simulate
Migrating Engineering Workloads to the Azure Cloud
An FLSmidth case study from UberCloud.
Simulate
MathWorks Updates Simulink Real-Time
Software enhancements involve rapid control prototyping and hardware-in-the-loop testing capabilities with QNX Neutrino Realtime Operating System (RTOS).
All posts
All topics