ExOne Announces Kennametal as Inaugural Beta Customer for New X1 25PRO Production Machine
May 23, 2019
ExOne also announced a new material partnership program, as well as more collaboration with Sandvik Additive Manufacturing.
Behind the Scenes at Materialise in the Midwest
May 23, 2019
Factory tour at Michigan-based 3D printing production facility provides a peek at the company's innovations in the medical sector.
SmileDirectClub to 3D Print 20 Million Mouth Molds in Next 12 Months using HP Multi Jet Fusion
May 23, 2019
SmileDirectClub disrupting $12 billion orthodontics industry with affordable, personalized and sustainable 3D production using factory of 49 HP Jet Fusion 3D printers.
Essentium Shows Off High Speed Extrusion (HSETM) 3D Printing Platform
May 23, 2019
Showcased publicly in the US for the first time at Rapid + TCT, the HSETM 3D printing platform promises speed, strength and scale.
Xjet 3D Printed Antenna to Enable University of Delaware to Unlock 5G Network
May 23, 2019
XJet NanoParticle Jetting technology helps solve the manufacturing and performance issues of Passive Beam Steering for superfast antenna applications.
Materialise Announces New Version Streamics 8 and Materialise Simulation 2.0; Collaboration with HP, Nikon and Essentium
May 23, 2019
The partnerships, announced during the 2019 RAPID+TCT Conference in Detroit, will support the adoption of 3D printing by industrial manufacturers.
Stratasys and Solvay Partner to Bring New 3D Printing Materials to Market and Expand Adoption in Manufacturing
May 23, 2019
Stratasys launches authorized materials partner program; Solvay selected as first materials provider to develop Stratasys-approved Fused Deposition Modeling (FDM) filament for F900 3D printer.
3D Systems Announces General Availability of Figure 4 Modular Digital Light Printing (DLP) Production Solution
May 23, 2019
Company also announces five new DLP and selective laser sintering (SLS) production materials.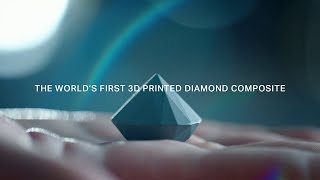 Sandvik Creates 3D-Printed Diamond Composite
May 23, 2019
Stereolithography used to create parts in complex shapes from composite diamond slurry.
SHINING 3D Launches the EP-M150 Metal 3D Printer
May 23, 2019
Compact 3D printer suited for small metal 3D printing applications.
MakerBot Expands METHOD 3D Printer Materials with Durable and Chemical-Resistant PETG
May 23, 2019
The first material for the MakerBot METHOD 3D printer in the Specialty Material line, PETG promises superior part durability and chemical resistance.
Markforged Launches Blacksmith Software that Uses AI to Automatically Adjust 3D Printers
May 23, 2019
ESI, AddUp Team on Distortion Simulation
May 22, 2019
New Distortion Simulation AddOn module will help mitigate distortion problems for metal additive manufacturing processes.
America's Cup Challenger American Magic Flies Across the Water with Stratasys 3D Printing
May 21, 2019
US team for world-renowned competitive sailing event taps into carbon fiber for end-use racing parts.
Indo-MIM and Desktop Metal Set Up Partnership to Boost Adoption of Metal 3D Printing
May 21, 2019
Large metal injection molding company plans to deploy metal 3D printing at scale with the Production System.
Latest News
Editor's Picks: June 6-12, 2019
One of the picks will be chosen as DE's Editor's Pick of the Week.
New SURFCAM Release Now Supports Fast 5-Axis Machining Tool
Software features barrel cutter support, performance improvements and new gun drilling cycle.
America Makes TRX+ @NIAR Technical Review and Exchange Event Headed to Kansas
Speakers at the two-day event include Cindy Ashforth of the Federal Aviation Administration, Chris Holshouser of NIAR, and Doug Hall...
Materialise Receives FDA Clearance for Cardiovascular Planning Software Suite
Introductory Workflow, Mimics Enlight Mitral provides support for transcatheter mitral valve replacements
All posts