CONTACT Software's Elements for IoT Earns Software Award
April 2, 2019
The Research and Application Center Industry 4.0 named Elements for IoT the winner 2019 in the category "Internet of Things."
Additive Manufacturing is Leaving the Island
April 1, 2019
With 3D printing growing increasingly mainstream, manufacturing execution systems are a tool against equipment downtime and production floor chaos.
Digimat 2019.0 Democratizes Light-weighting Crash Simulation
March 28, 2019
Support for new material systems, part performances, lifetime predictions and addition of a strong interface to MaterialCenter in this release.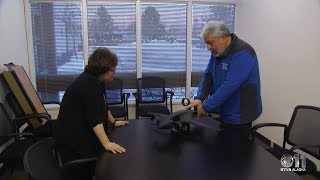 Autonomous Cargo Drone Does Heavy Lifting
March 27, 2019
Sabrewing has designed two hybrid-electric aircraft that can autonomously deliver hundreds of pounds of cargo to remote locations.
Meeting Design and Regulatory Challenges of Autonomous Air Taxis
March 25, 2019
Frankfurt Airport manager Fraport is working with Volcopter to potentially use electric, vertical take-off multicopter (eVTOLs) to carry passengers through an urban transport network.
3Degrees Launches TRACE for Best Practices in 3D Printing
March 15, 2019
Software offers an intuitive, flexible tool to tackle requirements in quality management, company says.
Matereality Adds Lab Information Management to its Material Data Management Software
March 14, 2019
Release Is accompanied by a new bolt-on for companies to manage and run their test labs.
Editor's Pick: New Machine Learning and Data Intelligence Support for Engineering Simulation  
March 13, 2019
Autonomous optimization helps simplify complex engineering processes.
UL Opens Catalog of Safety Standards
February 22, 2019
A library of more than 1,400 standards is now available to all.
NAFEMS World Congress 2019 Preview
February 20, 2019
The international association for the engineering modeling, analysis and simulation community, hosts the NAFEMS World Congress June 17-20 in Quebec, Canada.
Aras Teams up with VCollab to Boost Management of Simulation Results 
February 12, 2019
Aras will use the VCollab technology in Simulation Process & Data Management (SPDM) processes across the lifecycle. 
Visualize Raw Simulation Data
November 21, 2018
New release extends numerical optimization and simulation data management platforms.
Editor's Pick: Make Managing Complexity Less Complex
November 19, 2018
Labyrinthine design processes and simulation data management can render informed decision-making tough going. This could be your path out of the maze.
Greenlight Guru Announces New Integration with Jira Software
November 2, 2018
Quality management software platform for medical device companies now integrates with issue and project tracking tool.
Mitigating Disaster
November 1, 2018
Recovering data when the hard drive dies.
Latest News
Larger, Lighter Metal AM Parts Take Flight
European consortium unveils one-meter-in-diameter part manufactured using Direct Metal Laser Melting (DMLM) technologies as part of a push towards lower...
Hybrid Work is Here to Stay
An HP Teradici survey flags the ability to deliver a productive employee experience as the greatest challenge to the hybrid...
Sigma Additive Solutions Joins EOS Developer Network
Sigma to expand agnostic software-only offerings to provide key analytics to EOS machine, process and part In-process data.
SPEC Offers New Tools and Reduced Academic Pricing for SPEC CPU 2017 Benchmark Suite
New Version of CPU Benchmark Suite Includes Tools for RISC-V-based Linux Systems
All posts