VCollab
July 1, 2019
VCollab helps manufacturers realize the full benefits of simulation by making actionable, 3D simulation insights easily accessible to anyone in your organization or supply chain. With VCollab, simulation report generation is automated, reducing analyst time from hours to minutes while...
VOLTA and modeFRONTIER Release 2019 Summer Now Available
June 28, 2019
Enjoy VOLTA simulation process and data management, design exploration and optimization from your own application.
OnScale
June 3, 2019
OnScale is the first Cloud Engineering Simulation platform. OnScale combines powerful multiphysics solver technology with the limitless compute power of cloud supercomputers. With OnScale, engineers can run massive numbers of full 3D multiphysics simulations in parallel to create true Digital...
Partner Content
Field-Driven Design for Rapid Engineering and Collaboration
May 29, 2019
A new approach to multifunctional design uses fields to encapsulate shape, physics and manufacturing process in a single, unified environment.
OnScale Tackles Ultrasonic Sensing
May 28, 2019
OnScale releases paper to showcase cloud CAE's role in developing next-generation fingerprint technology for securing smartphones.
Techniplas: Combining Additive Manufacturing (AM), Generative Design, and AI to Explore Lightweighting
May 9, 2019
In partnership with generative design software maker Paramatters, Techniplas offers free browser-based manufacturing portal to attract lightweighting projects
COFES 2019: Mixed Reality with Visual Fidelity, Real-Time Simulation, Diversity, and More
May 8, 2019
Congress on the Future of Engineering Software tackles AR, VR, MR, real-time simulation, women in engineering, and more.
Engineering Automation: Going on Autopilot
May 1, 2019
From flying taxis to cargo drones, efforts are underway to automate in the air.
Congress on the Future of Engineering Software 2019 Begins in Silicon Valley
April 9, 2019
Industry leaders gather for annual COFES event on engineering software for product and building design.
HoloLens 2 Attracts Engineering Workflow in AR-VR
March 29, 2019
Microsoft launches HoloLens 2, PTC Showcases Customer Using VR for Asset Management
Sponsored Content
Case Study: 3D Modeling for Faster Engineering Results
March 25, 2019
Developers at SLM Solutions AG replaced their conventional CAD system with a more user-friendly solution for faster design exploration using ANSYS Discovery SpaceClaim. Read the case study to find out how they were able to visualize ideas in 3D and...
Maple 2019 Offers Mathematical Power to Users 
March 21, 2019
New release strengthens core math capabilities, opens new areas for technical research.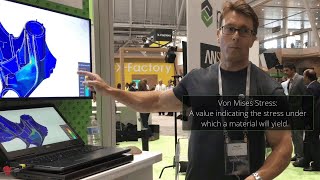 Creo Goes for Real-Time Simulation Feedback
March 19, 2019
Creo Simulation Live embeds ANSYS simulation capabilities directly into the CAD tool interface.
ESTECO Releases Spring 2019 Update to VOLTA Simulation Process Automation Suite
March 13, 2019
New AI algorithms and charting templates extend the ability to bring simulation data into design optimization.
ASSESS 2019 Congress Open for Registration
March 7, 2019
The ASSESS 2019 Congress, the 4th annual congress, will be held at Chateau Elan Winery & Resort in Braselton, GA, October 27-29, 2019.  
Latest News
Editor's Pick: Accelerating electromagnetics simulation
Siemens Simcenter 2022.1 has updates in three specific applications: Simcenter SPEED; Simcenter Motorsolve; and Simcenter MAGNET.
IMAGINiT Launches Clarity 2023
This enterprise-level suite of products can improve architecture, engineering and construction firms' advances in process automation.
Morf3D and Constellium Ink Joint Additive Manufacturing Program
Constellium's Aheadd CP1 offers benefits including thermal and electrical conductivity approaching that of pure aluminium, the company reports.
JIE USA Debuts 3D CAD Configurator Built by CADENAS
Motor and drive manufacturer unveils tool for on-demand, online design and product selection.
All posts