HoloLens 2 Attracts Engineering Workflow in AR-VR
March 29, 2019
Microsoft launches HoloLens 2, PTC Showcases Customer Using VR for Asset Management
Sponsored Content
Case Study: 3D Modeling for Faster Engineering Results
March 25, 2019
Developers at SLM Solutions AG replaced their conventional CAD system with a more user-friendly solution for faster design exploration using ANSYS Discovery SpaceClaim. Read the case study to find out how they were able to visualize ideas in 3D and...
Maple 2019 Offers Mathematical Power to Users 
March 21, 2019
New release strengthens core math capabilities, opens new areas for technical research.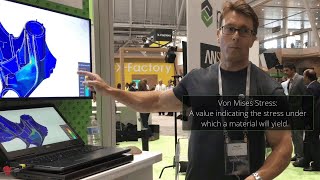 Creo Goes for Real-Time Simulation Feedback
March 19, 2019
Creo Simulation Live embeds ANSYS simulation capabilities directly into the CAD tool interface.
ESTECO Releases Spring 2019 Update to VOLTA Simulation Process Automation Suite
March 13, 2019
New AI algorithms and charting templates extend the ability to bring simulation data into design optimization.
ASSESS 2019 Congress Open for Registration
March 7, 2019
The ASSESS 2019 Congress, the 4th annual congress, will be held at Chateau Elan Winery & Resort in Braselton, GA, October 27-29, 2019.  
Parametric Design Optimization with CORTIME
March 1, 2019
Walk through a linear buckling optimization using CORTIME.
NASA Jet Propulsion Laboratory
February 1, 2019
The Jet Propulsion Laboratory is a federally funded research and development center and NASA field center in La Cañada Flintridge, California.
WINDnovation Adopts pSeven in Design of Wind Turbine Rotor Blades
January 17, 2019
pSeven is developed by DATADVANCE, an independent software developer of design space exploration, predictive modeling, automation and integration solutions.
Soler & Palau selects CORTIME for Design Exploration in SolidWorks
January 15, 2019
Soler & Palau is immersed in the development of efficient ventilation products and systems into the market that reduce energy consumption while protecting the environment.
Partner Content
Start Fast, Finish Faster
January 14, 2019
How quick simulations at the design concept stage can speed the entire product development process.
Biomimicry Inspires Lightweight Lattice Design
January 1, 2019
The combination of nature and new topology optimization and simulation tools serves up a powerful approach to achieving lightweighting design goals.
CORTIME Introduces SolidWorks Embedded Multi-Study Optimization
December 18, 2018
CORTIME, according to the company, helps engineers explore optimal designs by automating their design evaluation process and exploring design options based on performance goals and constraints.
Technology Focus: Designing for Optimization & Simulation
December 18, 2018
Simulation is pervasive, with people from different departments and backgrounds discovering new ways to put it to use, in all of its varied forms.
Sponsored Content
Increasing Passive Safety Performance Using an Automatic CAE Methodology
December 12, 2018
Development of an integrated tool able to optimize the geometric features of a door trim and the restraint system setup.
Latest News
3D Systems Shares CFO Transition
Michael Turner is stepping down as the company's chief financial officer (CFO), effective October 15, 2023.
Nano Dimension Reaffirms Its Vote "Against" Stratasys' Merger With Desktop Metal
Nano Dimension says merger deal would be highly dilutive, requiring Stratasys to pay premium and give financial support to Desktop...
Custom Fit
Availability of customized medical devices and orthotics improves with advanced engineering design and fabrication.
Dassault Debuts Emma Twin for Healthcare Innovation
An avatar was designed to raise awareness about how virtual twins are advancing healthcare.
CloudNC Offers CAM Assist as Autodesk's Fusion 360 Plug-in
CAM Assist uses advanced computer science techniques to generate professional machining strategies for 3-axis parts in seconds. 
Explore Open Access Ordering of Parts
New product ordering system offering extends from workflow from additive manufacturing part identification to the delivery of manufactured parts.
All posts