Altair Named Ducati Corse Technical Partner for Legendary Official Team in MotoGP
July 21, 2020
Altair and Ducati Team sign multi-year partnership, expanding use of Altair design and simulation solutions.
Ansys Discovery Reduces Engineering Labor by 26%
July 17, 2020
Simulation-driven design tool combines instant physics simulation, interactive geometry modeling.
Siemens Acquires Avatar
July 17, 2020
Acquisition expands Siemens' Xcelerator portfolio, enhancing current integrated circuit design offerings with place and route software.
Datakit Updates SolidWorks Converters
July 17, 2020
Datakit announces updated and new SolidWorks plug-ins.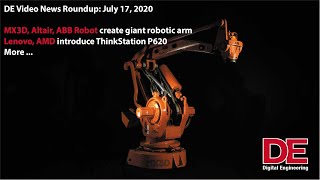 MX3D Makes 3D-Printed Robotic Arm, Lenovo and AMD Partner for New Workstation, Autodesk Releases Generative Design Extension, More
July 15, 2020
MX3D Makes 3D-Printed Robotic Arm, Lenovo and AMD Partner for New Workstation, Autodesk Releases Generative Design Extension, More
Sponsored Content
Editor's Pick: Initial 2D sketching without constraints 
July 15, 2020
Siemens Digital Industries Software AI-Enhanced NX Sketch uses artificial intelligence to eliminate the need for defining parameters and constraints before sketching.
Zuken Releases CR-8000 2020 for Electronic Design
July 14, 2020
3D multi-board EDA environment features enhancements to schematic design, integration with Keysight and Ansys.
OMRON Provides 3D Engineering Data in CADENAS Solutions
July 14, 2020
Digital product catalog offers important metadata, such as end-of-life information, for industrial automation.
Find CAD Components Easily With Intuitive Search Methods From 3DfindIT.com
July 14, 2020
3DfindIT.com offers search methods to effectively accelerate design and engineering projects.
Siemens to Release Solid Edge 2021
July 13, 2020
New release includes subdivision modeling and improved reverse engineering.
Volume Graphics CT Software Includes Scan-to-CAD Reverse Engineering Capabilities
July 10, 2020
New capabilities support digital twin creation and simulation validation.
Bringing a Comic Book Hero to Life
July 7, 2020
Effects artists used a combination of digital modeling, animation, CAD and 3D printing to build the massive S.T.R.I.P.E. armor for the DC Universe's Stargirl.
Tools that Build Sustainable Products
July 1, 2020
Design solutions are emerging that can help integrate sustainability.
3 HTi Now an Official Onshape Reseller
July 1, 2020
3 HTi has 18 years of experience providing CAD and PLM software and services as a platinum level resale partner with PTC.
Generative Design in Autodesk Fusion 360 Now More Accessible and Flexible
June 26, 2020
To help Fusion 360 users extend their design exploration capabilities on a regular basis, the company is offering unlimited access to the generative design functionality as a separate subscription.
Latest News
5 Ways to Reduce Production Costs
The new guide explains how 3D printing removes hurdles that can drive up production costs.
Partnership Targets Design Solutions to Prevent Violence Against Women
WDO and UN Women in Asia and the Pacific team up to reduce abuse through improved health, equality.
FREE WEBINAR: How the Cloud is Revolutionizing Product Development 
Learn how cloud-based product development tools can further your digital transformation strategy.
Nexa3D Acquires NXT Factory
Move will increase potential market for production-class 3D printing.
All posts