Onshape Product Platform Adds Four Releases
April 4, 2019
New releases include assembly configurations and various enterprise workflow data management and CAD enhancements.
Latest .DWG Editor Extends Usability
April 3, 2019
IntelliCAD 9.1 from IntelliCAD Technology Consortium adds digital signature, PDF utility and more. 
Generative Design Calculator Assists in Better Technology-Based Decision-Making
April 2, 2019
The Generative Design Total Lifetime Value Calculator enables ABI Research Industrial Solution clients to plan and compare the best strategies for deploying generative design.
TopSolid 7.12 Review: All in the Family
April 1, 2019
A completely integrated CAD/CAM/PDM program.
Building Student Teamwork Via Robotics
April 1, 2019
Next-Gen Engineers Student Design Competition Profile: VEX IQ Challenge Next Level
Additive Manufacturing is Leaving the Island
April 1, 2019
With 3D printing growing increasingly mainstream, manufacturing execution systems are a tool against equipment downtime and production floor chaos.
Aiming to be the Amazon of On-Demand Manufacturing
April 1, 2019
Vendors enter the field, adding new networks for ordering custom parts and prototypes.
3D Printing Services: The CAD Connection
April 1, 2019
Software-integrated plug-ins and online analysis pave the way for on-demand manufacturing.
Pushing the Printed Electronics Envelope
April 1, 2019
The prospects are real, but we may have to wait a bit before we can experience the full benefit of additive manufacturing in electronics.
Trust, Technology and Being Human
April 1, 2019
An engineering workflow needs to take human nature and the pros and cons of software recommendations into account.
Dyndrite Launches Developer Program; Establishes Inaugural Developer Council to Steer Future Development
April 1, 2019
Dyndrite to work with developers and OEMs including Aconity3D, EOS, HP, NVIDIA, Plural and Renishaw to promote applications based on its new "Computational Geometry Engine" to advance 3D printing experience.
HoloLens 2 Attracts Engineering Workflow in AR-VR
March 29, 2019
Microsoft launches HoloLens 2, PTC Showcases Customer Using VR for Asset Management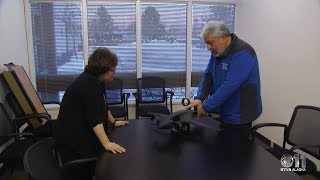 Autonomous Cargo Drone Does Heavy Lifting
March 27, 2019
Sabrewing has designed two hybrid-electric aircraft that can autonomously deliver hundreds of pounds of cargo to remote locations.
PTC Creo 6: New Technologies Enhance Pioneering MCAD Software
March 27, 2019
Update to PTC Creo 6 include enhancements to design for additive manufacturing, real-time simulation analysis powered by ANSYS and augmented reality workflows.
RIZE Unveils Smart Spaces for Innovation, Announces New Partnerships
March 27, 2019
With Dassault Systemes as an investor and strategic partner, RIZE says it has developed an end-to-end solution that connects the entire digital ecosystem within a company.
Latest News
Hexagon Releases Latest Update of EDGECAM
New release supports fast 5-axis machining tools; software features barrel cutter support and new gun drilling cycle.
Systems Engineering Software Update Advances Multidiscipline Simulation
Siemens PLM Software releases a full plate of new features in Simcenter Amesim 2019.1. 
Sponsored Content
Editor's Pick: Multi-domain Systems Analysis Just Got Easier
Siemens PLM Software updates Simcenter Amesim with new features in four broad categories.
Researchers Freeze-Print Graphene Battery Anodes
A team at Kansas State University used a freeze printing approach to create sodium ion batteries with hybrid graphene aerogels.
All posts