ZWCAD 2020 SP1 Just Released
October 30, 2019
Users can migrate their preferred settings for user interface, commands, graphics, plotting, and so on from earlier versions (ZWCAD 2018/ZWCAD 2019) to ZWCAD 2020 SP1.
NASA Selects First Mode and ASU to Develop Marathon Moon Rover, Intrepid
October 28, 2019
Company brings expertise in rover systems, surface mobility, and more to lunar mission study.
2D CAD Program CADintosh 8.5 Adds DWG Export and More
October 28, 2019
The number of CAD elements that can be used in the app is limited only by the available memory in the user's Mac.
PTC Snatches Up Cloud CAD Pioneer Onshape
October 24, 2019
CAD and PLM giant PTC buys cloud CAD developer Onshape in a game-changing acquisition.
SPECapc Releases New SolidWorks Benchmark
October 24, 2019
The benchmark is designed to run on Microsoft Windows 10 64-bit platforms. 
Editor's Pick: A Fresh Take on Industrial Design Software 
October 23, 2019
Altair Inspire Studio is part of Altair's Inspire Platform, a set of contemporary tools transforming product design by making simulation the heart and soul of the suite.
flyingshapes° Launches Virtual Reality CAD Application
October 22, 2019
Available now for Oculus Rift and HTC Vive, flyingshapes° streamlines design workflows for precise spatial modeling with intuitive haptic controls and interactive VR toolset.
Bricsys Conference Highlights "One Platform" Approach to Design
October 18, 2019
Bricsys celebrated the first anniversary of the acquisition at its most recent annual conference by showing off new partnerships, new drafting technology and more.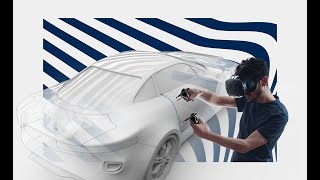 Varjo Releases VR2, Flyingshapes Launches CAD for VR, More
October 17, 2019
xRS Week Conference by Greenlight Insights kicks off, Varjo releases VR-2 Regular and Pro hardware, flyingshapes launches CAD modeling app for VR users
Cortona3D RapidAuthor 12.0 Facilitates Compliant Documentation
October 15, 2019
Product features a new user interface for editing SCORM Content Package Modules (SCPM) and improved user interface of SCPM publications.
Altair Launches 3D Design and Rendering Solution
October 14, 2019
Inspire Studio is a new solution for designers, architects and digital artists to create, evaluate and visualize designs faster.
Altium Issues New Release of Altium Designer for PCB Design
October 11, 2019
The latest release, Altium Designer 20, offers major upgrades to the software's unified design environment, user experience and PCB design capabilities. 
Partner Content
Napkin Drawings with a Digital Touch
October 10, 2019
Sophisticated sketching programs let you capture simple concepts, create masterpieces.
3D Scanning Helps Vision Impaired Experience Sculptures 
October 10, 2019
Scanning data was used to 3D-print to-scale replicas of sculptures for a tactile educational experience for the blind and visually impaired. 
Altair Acquires Polliwog Co.
October 10, 2019
Polliwog, a high-tech software company near Seoul, South Korea, provides electronic design automation software to the electronics industry.
Latest News
Looking Glass Factory Launches Oversize Holographic Display
Looking Glass Factory releases 32 inch holographic display called Looking Glass 8K
Siemens Buys Atlas 3D
Atlas 3D helps designers define optimal part orientations for "right first time" 3D printing; cloud-based, GPU-accelerated Sunata software can reduce...
Accellera Issues Standardization Initiative to Address Design Automation and Tool Interoperability for Functional Safety
Proposed working group established to determine industry interest for a standard to support a functional safety flow.
Aleph Objects Bought by FAME 3D
Aleph Objects is best known for its LulzBot line of 3D printers.
All posts