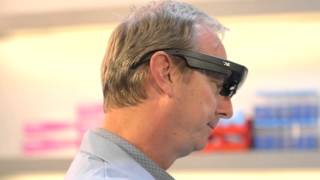 PTC Draws On Augmented Reality to Round Out its IoT Vision
February 1, 2016
Using an augmented reality platform to overlay digital data, companies can elevate interaction with a product to provide service operators with detailed instructions or facilitate design reviews for engineers.
Seeing Digital Twin Double
January 29, 2016
Digital twins create an unprecedented design-test feedback loop thanks to the convergence of the Internet of Things, augmented reality and advanced simulation.
Siemens to Acquire CD-adapco: Pool of Key Players Keeps Shrinking as Consolidation Continues
January 25, 2016
Job Search in the New Year? First, Check Out What Your Salary Should Be.
January 11, 2016
AU 2015: AI-Designed Parts and Sensor-Equipped Cars are the New Order
December 4, 2015
Siemens Brings ALM Into the PLM Fold
December 2, 2015
Siemens PLM Software has snapped up Polarion, an application lifecycle management (ALM) vendor and is already working to fold it into its Teamcenter product lifecycle management (PLM) platform.
Digital Twins Land a Role In Product Design
December 1, 2015
The concept of a dynamic avatar is gaining traction as companies look at connecting the physical product to its virtual counterpart.
Windchill 11 Bridges IoT With PTC's PLM Roots
November 30, 2015
PTC's newly announced Windchill 11 PLM system, is enabled by the ThingWorx technology to connect the digital world to the physical world for IoT-driven product design.
In the Experience Economy, the Experience IS the Product
November 25, 2015
Building a New Consumer Experience
November 24, 2015
Attendees of last week's 3DEXPERIENCE Forum in Boston discussed how the "Experience Economy" is changing product design and business.
PTC Puts Entire Portfolio on Subscription
November 16, 2015
PTC Gets Real With Augmented Reality
November 4, 2015
As an augmented reality technology, Vuforia will help PTC bridge the digital and physical worlds.
The Long Life of Materials
October 1, 2015
A growing waste problem points to the need for product designs that account for environmental impact at every step, from development through disposal.
Sponsored Content
Making the Case for Resilient PLM
June 30, 2015
Your product lifecycle management (PLM) must be scalable, flexible and upgradeable to handle increasingly complex product design.
COE 2015 Focuses on Experience
May 11, 2015
A wrap up of the COE Annual Experience and TechniFair in Charleston, SC, with the latest on Dassault Systemes' 3DEXPERIENCE platform.
Latest News
Remcom Debuts Tuning in Simulation Software
Company introduces tuning with slider bars for matching network design in XFdtd EM simulation software.
CCE Updates its CAD Interoperability Toolkits
With these updates, there is support for the latest versions of all major CAD formats.
Ansys 2023 Release Amplifies Product Design
Engineers can now simulate complex products faster via cloud options and optimized use of multiple GPUs
3DPRINTUK Increases Multi Jet Fusion Capacity
3DPRINTUK adds SLS machine.
All posts