BOXX Announces Strategic Partnership with CMIT Solutions
May 7, 2019
Computer manufacturer teams up with national IT provider to deliver computing solutions to small and midsized businesses.
Powerful, Lightweight and VR-Ready
May 1, 2019
The MSI WS65 8SK mobile workstation delivers great performance.
Latest Dell Mobile Workstations Designed to Fit All Budgets
April 30, 2019
Targeting those looking for workstation-class performance in a small footprint, the Dell Precision 3540 mobile workstation is what the company says is its "most affordable mobile workstation."
Origin PC NT-15 Mobile Workstation Review: Lightweight and Powerful, but a bit Pricey
April 30, 2019
Origin PC NT-15 Quadro mobile workstation is a 15.6-inch laptop that delivers good performance at a premium price.
Arena Solutions Offers Arena PLM for AWS GovCloud
April 26, 2019
New software release extends PLM and quality assurance.
HP Focuses on Security in new ZBook Mobile Workstations and EliteBook 800 Series
April 17, 2019
Company says HP Sure Sense uses deep learning AI to enable real-time malware protection.
OnScale Raises $10 Million from Intel Capital and Gradient Ventures
April 12, 2019
OnScale helps companies advance the development of new technologies like semiconductors and MEMS, 5G, next-gen medical devices, and autonomous vehicles through engineering simulation.
Congress on the Future of Engineering Software 2019 Begins in Silicon Valley
April 9, 2019
Industry leaders gather for annual COFES event on engineering software for product and building design.
Partner Content
Workstations Meet Computer-Aided Optimization Software Challenges
April 8, 2019
Lower costs, higher power workstations evolve to power generative design and optimization-focused workflows.
Partner Content
NVIDIA RTX Could Change Use of Raytraced Rendering
April 8, 2019
A mix of AI-powered denoising and raytracing poised to promote real-time product views.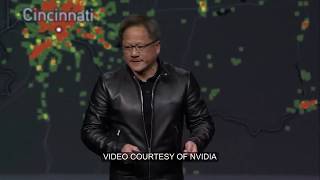 Video News Roundup: Epic Games' $100 Million Grant, NVIDIA's Workstation for Data Science
April 5, 2019
News from NVIDIA, TechSoft's HOOPS 2019 and Epic Games in this edition of DE's video roundup.
Onshape Product Platform Adds Four Releases
April 4, 2019
New releases include assembly configurations and various enterprise workflow data management and CAD enhancements.
Plugging GPUs into the Metal AM Workflow
April 1, 2019
When it comes to metal-based AM, organizations are looking to harness the power of graphics processing units.
Blown Away: Eurocom Tornado F7W Mobile Workstation
April 1, 2019
Canadian system integrator delivers the fastest mobile workstation ever reviewed by DE.
HoloLens 2 Attracts Engineering Workflow in AR-VR
March 29, 2019
Microsoft launches HoloLens 2, PTC Showcases Customer Using VR for Asset Management
Latest News
Altair Signs Reseller Agreement with NEC for PBS Professional
Altair will include socket-based PBS Professional licenses with its x86/Linux systems.
ISC 2019 Kicks Off with Spotlight on High-Performance Computing
The organizers have lined up a program covering high-performance computing topics, encompassing servers, networking, storage, software tools and applications.
KISTERS Debuts 3DViewStation Fast WebViewer for Catia, NX, Creo and more  
3DViewStation WebViewer gives the ability to instantly load native CAD data from various sources like: Catia, NX, Creo, Inventor, Solidworks,...
NCDMM Opens New Huntsville, Ala., Office to Support U.S. Army
NCDMM welcomes Mike Docherty as director of Manufacturing Technology to lead Huntsville office.
All posts