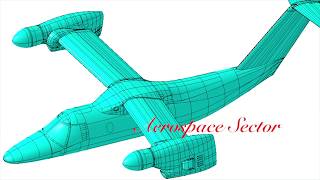 Partner Content
AW609 TiltRotor Wind Tunnel Testing via Composite 3D Printing
January 28, 2019
CRP Technology's Windform XT 2.0 carbon-composite material was used to create the wind tunnel testing model via selective laser sintering in just four days.
Partner Content
Сreating Patient-specific Chest Implants with Artec 3D Scanners and Geomagic Freeform Software
January 4, 2019
3D scanning is now being used by both public and private healthcare to tailor to specific patient needs.
Partner Content
The Growing Acceptance of CAE
December 18, 2018
Partner Content
How Ascensia Diabetes Care Instituted new PLM, ERP and CRM Solutions in 18 Months
December 14, 2018
New enterprise resource planning (ERP) and product lifecycle management (PLM) systems needed to be configured and integrated with each other. And everything required a rebranding from "Bayer" to "Ascensia" that would affect multiple products, sold in countries around the world,...
Partner Content
Using Multidisciplinary Optimization to Determine the Structural Parameters of a Wing for an Unmanned Aerial Vehicle
December 3, 2018
Novel Machine-Learning Methodology Refines Simulation of Heart Anatomy and Function
November 21, 2018
Thornton Tomasetti Applied Science modified a pre-existing, reasonably representative, FEA model in a way that allows the simulated behavior of the heart to match the targeted behavior seen in the diseased state.
Envisioning New Markets with Roland MDX Technology
October 22, 2018
Tayyebi got the idea of creating his own line of premium eyeglass frames several years ago. To avoid competing with companies that mass-produce frames using injection molding, he decided to mill his frames from unusual substrates, including buffalo horn and...
Partner Content
Optimize Bioreactors Quickly with Cloud-based HPC
October 22, 2018
Combining UberCloud with Fluent and DesignXplorer streamlines the process of characterizing a bioreactor, which is at the heart of every pharmaceutical manufacturing process.
How Embedded Data Recorders are Changing Crash Testing
August 8, 2018
As production of THOR continues to ramp up, labs are trying to get everything prepared and in place for the transition.
Customized Parts Reduce Noise for Cyclists
July 13, 2018
Inventor turns to igus for parts that produce quieter, maintenance-free ride.
Crash Test Dummies Get Older, and Better
July 1, 2018
Adaptive and Markforged help Humanetics create a 3D-printed "elderly" model with use of crash test dummies.
DFM is a Path to Radical Profit Gains, not Just "Manufacturability"
June 21, 2018
Real-world examples of returns from early costing projects.
Frontloading CFD Is a Win for Business
May 1, 2018
Being able to simulate flow and heat analysis in our projects helps us show customers early in our relationship how our product design suits their needs and do so in detail.
HP and Jabil Aim to Transform Manufacturing with 3D Printing Solutions
May 1, 2018
HP invented the commercial laser printer in 1980 and followed with the first thermal inkjet printer four years later. These breakthroughs transformed the printing industry and established HP as a major game-changer.
Rolls Royce Works with Student Team to Create 3D Printed Jet Engine Model
April 1, 2018
3D Hubs Student Grant finalist JetX represents a team of aerospace engineering students working with Rolls Royce to create the world's first functional 3D printed jet engine model that will provide instant design feedback.