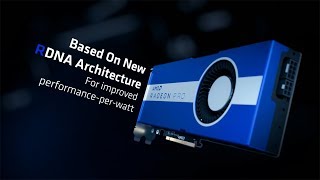 New GPU Enters the 7nm Realm 
December 11, 2019
The graphics processing unit can do more work per watt and do it faster than the previous generation technology.
Sponsored Content
Editor's Pick: Engineering GPU with World-First Specs 
December 11, 2019
AMD Radeon Pro W5700 is a professional PC workstation graphics card designed for 3D designers and engineers using 7nm technology.
Getting Graphic
December 1, 2019
Intel is joining the discrete GPU market. Here's how to follow the latest news and announcements from the chipmaker.
Sponsored Content
Productivity Study: ANSYS Mechanical
November 30, 2019
Simulation run times are up to 4.8 times faster using a current workstation equipped with a powerful GPU compared to an older system.
NVIDIA Announces Scalable GPU-Accelerated Supercomputer in the Microsoft Azure Cloud
November 21, 2019
New Microsoft Azure NDv2 supersized instance can scale to hundreds of interconnected NVIDIA Tensor Core GPUs for complex AI and high-performance computing applications.
BOXX Debuts RAXX P6G Jupiter System at Autodesk University
November 21, 2019
System features a 2nd generation, 64-core, AMD EPYC processor and up to 16 NVIDIA Quadro RTX or Tesla graphics processing units.
Newest Apple MacBook Pro Features AMD Mobile GPUs
November 14, 2019
AMD Radeon Pro 5000M Series mobile GPUs bring high-performance AMD RDNA architecture to Apple's new 16-in. MacBook Pro
Companies, Cities Adopt Use of NVIDIA EGX Edge Supercomputing Platform
October 23, 2019
This platform delivers artificial intelligence to factories, wireless networks, stores and more.
GMS' New Server and AI Engine Set Made for Next-Gen Army Vehicle and Airborne Systems 
October 15, 2019
The vehicle-mounted server combo is ideal for applications requiring massive computation and sensor fusion, the company says.
Real-time Rendering in a Thin, Light Laptop
October 1, 2019
The MSI WS65 9TM-856 boosted by NVIDIA Quadro RTX GPU.
Consumer vs. Professional Tug of War
September 1, 2019
Can consumer hardware be adapted for professional usage?
Global GPU Shipments up in Q2'19 reports Jon Peddie Research
August 30, 2019
This is the latest report from Jon Peddie Research on the GPUs used in PCs, reporting on the results of Q2'19 GPU shipments worldwide.
Eurocom Launches 17.3-in. Nightsky RX17 Superlaptop
August 20, 2019
It's lightweight at under 2.9 kg/3.4 lbs, with three physical drives available in RAID 0/1 configuration.
Partner Content
Optimize Your Computing Culture
August 6, 2019
Affordable, powerful engineering computing hardware and software is the first step toward an optimized workflow.
Luxion Unveils KeyShot Support for NVIDIA RTX with OptiX
July 29, 2019
KeyShot 9 to support NVIDIA RTX accelerated GPU ray tracing and AI-accelerated denoising through the integration of NVIDIA OptiX ray tracing engine.
Latest News
Altair Updates with RapidMiner 2023 Platform
Updates include auto-clustering, expanded SAS, Python and R coding capabilities.
SME Education Foundation Awards Sustainability Funds to SME PRIME Schools
SME PRIME is tailored to meet the needs of local manufacturers and is aligned with over 30 industry recognized certifications, according...
Siemens Launches a Startup Program
The company says it recognized a need for startup companies to get access to some of its higher end, more...
EcoPulse Aircraft Demonstrator Makes its First Hybrid-Electric Flight
The demonstrator flew with its ePropellers activated, powered by a battery and a turbogenerator, companies report.
 Lithoz and Oak Ridge National Laboratory Team Up to Advance Ceramics
Technical collaboration agreement will focus on innovating high-temperature ceramics processing viathe use of Lithoz 3D printing technology.
EMA to Create Accelerated Designs IP Company
New spinoff business unit will provide multi-CAD support & expertise worldwide, EMA reports.
All posts