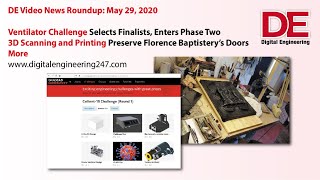 DE Video News Roundup: Update on CoVent 19 Ventilator Design Challenge, 3D Print and Scan in Medieval Church Restoration, More
May 27, 2020
In Video News Roundup for May 29, 2020, the Covent-19 ventilator design challenge enters phase II, 3D printing and scanning firm Prototek helps restore Florence Baptistery cathedral door, Autodesk Fusion 360 adds 3D printing tools, 3D Heals virtual conference set for June
Sponsored Content
Enabling Simulation-Driven Design
May 26, 2020
In our latest podcast, Digital Engineering talks to COMSOL's Phil Kinnane about democratization of simulation.
Expanding Role of Tolerance Analysis
May 21, 2020
In our latest podcast, Digital Engineering talks to Ed Walsh, VP of Global Sales at Sigmetrix, about the expanding importance of tolerance analysis.
Harvey Mudd College Professor on Teaching Robotics, Circuit Design in Lockdown
May 11, 2020
Harvey Mudd College Professor continues teaching circuit design and robotics lab courses under lockdown using take-home Arduino kits
COVID-19 Impact on AR/VR a Mixed Bag: Interview with Lenovo
May 7, 2020
Lenovo Commercial ARVR Lead Discusses Coronarivus Impact on Business, training and remote assistance emerges as solid deployment reasons
Sponsored Content
Siemens Keeps Engineers Connected During Pandemic
April 29, 2020
Digital Engineering talks to Siemens' Brenda Discher about the company's efforts to support customers during the COVID-19 pandemic.
Teaching Additive Manufacturing Under Lockdown
April 13, 2020
Penn State University Professor, Dr. Guha Manogharan, uses virtual machines and simulation software to continue advanced additive manufacturing instruction. Guha teaches a graduate lab course on metal additive manufacturing and design.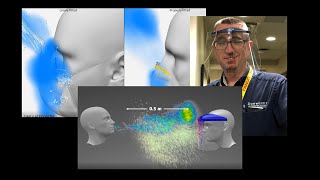 3D printers rally to make PPE, simulation examines social distancing
April 8, 2020
Professional and hobbyist 3D printers join the race to make PPE, simulation reveals social distancing's effectiveness
Car Makers Answer the Call for Ventilator Production
March 25, 2020
As automakers consider how to address the shortage of ventilators in the Coronavirus outbreak, industry veterans share their thoughts on the struggles and challenges. Join us for this podcast with CIMdata's Keith Meintjes and industry consultant Joe Barkai.
ANSYS 2020 R1 Update in Video
February 12, 2020
ANSYS announces a wide array of new features and capabilities in ANSYS 2020 R1.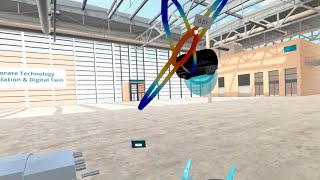 Autodesk Fusion adds ECAD tools, Siemens develops CAD for VR, JPR publishes CAD report, more
February 6, 2020
Autodesk Fusion adds ECAD tools, Siemens develops CAD for VR, JPR publishes CAD report, more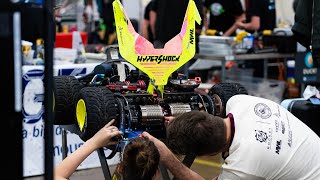 3D Printed Combat Robots
November 1, 2019
View how the team used 3D printed carbon fiber parts to boost strength and durability while minimizing weight across the drivetrain of the 3D printed robot.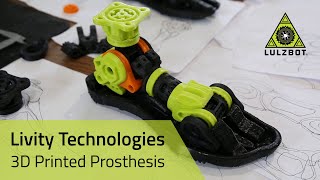 3D Printing Prostheses for Amputees
September 11, 2019
Watch how Livity Technologies uses rapid prototyping with Lulzbot 3D printers to bring carbon fiber prosthetic limbs to amputees in Jamaica.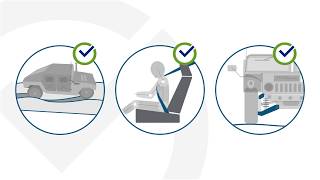 Identifying Hidden Costs and Failures
September 11, 2019
RAMDO is an engineering software tool that enhances computer simulation models by taking into account the variability of input variables.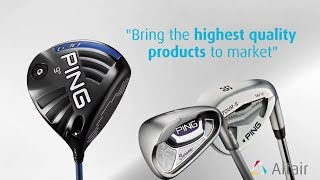 Ping Golf Uses CAE and HPC for Virtual Prototyping
August 8, 2019
Eric Morales, senior research engineer at PING Golf, explains how combining CAE simulation with the latest HPC technology has greatly reduced product development time.
Latest News
GTC 2021: NVIDIA Launches Omniverse, Develops CPU for Data Centers
NVIDIA Omniverse emerges from Beta, CPU codenamed Grace makes debut
Tacton Introduces Full CAD Automation
Enhanced capability automatically generates CAD drawings of custom, configured products to deliver products faster and eliminate errors.
Roboze Automate Debuts for Industrial-Scale 3D Printing
Additive manufacturing solution tackles challenges of standardization and process control to bring repeatable parts.
NVIDIA and Global Computer Makers Launch Enterprise Server Platforms for AI
NVIDIA-certified servers with NVIDIA AI Enterprise software running on VMware vSphere simplify and accelerate adoption of AI, NVIDIA says.
All posts