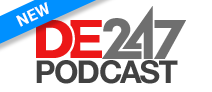 Listen in to
DE's new podcast channel.
Find us on
Apple Podcasts
,
Google Play Music
or Subscribe
via RSS
. Subscribe
via iTunes here
.
Check out our latest episode
.
Podcast: On-Demand Manufacturing Spurs Innovation
August 13, 2021
In this podcast, Xometry's Greg Paulsen outlines the benefits of on-demand manufacturing when it comes to accelerating design innovation. He discusses the opportunities and challenges of digital manufacturing, and how Xometry connects engineers with rapid prototyping and manufacturing resources.
DE Editors' Chat: Rapid + TCT Conference, Ansys Indy Autonomous Challenge, 3D-Printed Bridge, More
August 9, 2021
DE Editors discuss traveling to Rapid + TCT Conference, virtual car race hosted by Ansys, use of simulation in the Olympics, a 3D-printed bridge made by 3X3D, more
Sponsored Content
Podcast: New Frontiers in Engineering Computing
July 15, 2021
In this podcast, AMD's Chris Hall discusses how more powerful CPUs can unlock new levels of engineering performance.
Prelude to CAASE21: The Formula for Digital Twins
June 9, 2021
The Formula for Digital Twins requires physics-based modeling and machine learning.
Prelude to CAASE21: Autonomous, Connected Vehicles Present New Simulation Challenges
May 27, 2021
CAASE21 Keynote presenters discuss how connectivity and autonomy is changing vehicle design.
Prelude to CAASE21: Simulation is the Key to Qualifying and Certifying New Metal AM Parts
May 24, 2021
CAASE21 speaker Lyle Levine from the National Institute of Standards and Technology discusses the challenges of getting regulatory approval for designs manufactured in metal 3D printing.
Podcast: Optimal Engineering Workstation Architectures
February 4, 2021
Supermicro talks to DE about the company's approach to workstation architectures.
Sponsored Content
Podcast: A New Era of Remote Engineering and Design
January 7, 2021
Jason Barnett of IMAGINiT Technologies discusses the lessons we learned about remote work and collaboration in 2020.
Sponsored Content
Podcast: A Better Approach to BOM Data Management and Purchasing
December 16, 2020
OpenBOM discusses how engineers can move away from Excel when it comes to design data, BOMs and purchasing.
Sponsored Content
Podcast: Improving Time to Market with Tolerance Analysis
December 15, 2020
Sigmetrix President James Stoddard joins us to discuss how tolerance analysis can improve manufacturing.
Sponsored Content
Podcast: Engineering Process Optimization
December 11, 2020
We talked to ESTECO to learn how process optimization and automation can improve design.
Sponsored Content
The Role of Simulation and Test in a Digital Twin Strategy
December 10, 2020
S. Ravi Shankar of Siemens explains comprehensive digital twins and how Simcenter can improve performance engineering.
Sponsored Content
Podcast: Virtual Reality Improves Remote Collaboration
December 10, 2020
BETA CAE Systems joins us to discuss how VR technology can enhance remote engineering collaboration.
Sponsored Content
Podcast: Additive Manufacturing Fuels Sustainability Effort
December 9, 2020
Forecast 3D outlines how 3D printing and digital manufacturing can improve supply chain sustainability.
Sponsored Content
Podcast: Boost Engineering Productivity
December 9, 2020
Numeca president Charles Hirsch discusses how OMNIS can improve engineering productivity.
Latest News
Autodesk Accelerate: Lessons on Transformation from the Big Easy
At Autodesk Accelerate Conference, Autodesk executives and customers discuss digital transformation.
EOS and Sauber Technologies Sign 3-Year Additive Partnership
Signed at the Formula 1 Grand Prix in Barcelona, the partnership will enable solutions for F1 and beyond, companies report.
Call for Entries for 2022 Die Casting Competition
The deadline is June 13, 2022.
Desktop Metal Launches DuraChain Photopolymers
DuraChain photopolymers deliver elastic, tough material properties for digital light processing printing through a photopolymerization separation process.
All posts