Siemens Releases Teamcenter 12.1 and 11.6, and Active Workspace 4.1
January 11, 2019
Enhancements target the areas of BOM management, systems engineering and virtual reality with this release.
Boothroyd Dewhurst Releases DFMA 2019 Software
January 11, 2019
DFMA software uses an intuitive question-and-answer interface that identifies opportunities for cost reduction in a product.
Editor's Picks: Jan. 3-9, 2019
January 10, 2019
One of the picks will be chosen as DE's Editor's Pick of the Week.
JETCAM Releases v20.25.00 of Expert Nesting Software, v3.19 of JOC Automation Software
January 8, 2019
The latest release of JETCAM Expert is said to benefit from several major enhancements, including application of fly cutting during the tooling process.
Zigbee Alliance and Thread Group Release Dotdot over Thread Specification
January 8, 2019
Dotdot over Thread reportedly gives product developers low-power IP connectivity and the interoperability of a widely adopted IoT language.
AI-capable Supercomputer ZF ProAI Said to Feature Computing Power and Flexibility
January 7, 2019
ZF's modular and scalable ProAI product family accommodates various software stacks and processors for automated driving
Velocity Micro Unveils New Desktop and Laptop Products Ahead of CES 2019
January 7, 2019
From the new NVIDIA GeForce RTX 20-series laptops to extreme desktops, Velocity Micro expands all mobile, enthusiast and professional workstation offerings.
Editor's Picks: Dec. 27, 2018 to Jan. 2, 2019
January 3, 2019
One of the picks will be chosen as DE's Editor's Pick of the Week.
Additec Debuts Desktop μPrinter
January 3, 2019
Desktop Laser Metal Deposition 3D printer features closed-loop process control.
Tektronix' Initial State Launches new Data Streaming and Visualization Service
January 3, 2019
Cloud-based data service offers real-time streaming from devices and applications. 
FTI Releases FormingSuite 2019
January 3, 2019
Designed for sheet metal cost estimators, design engineers, tooling designers, and advanced planning engineers in the automotive, aerospace, consumer product and electronics industries, FormingSuite 2019 delivers new customer-driven features.
MathWorks Introduces Sensor Fusion and Tracking Toolbox 
January 3, 2019
Company extends MATLAB workflow to help engineers design, simulate, and analyze systems fusing data from multiple sensors.
Granta MI Version 12 Now on Shelves
January 3, 2019
Software contains new features for additive manufacturing, compliance, product lifecycle management support and more.
AI-Tuned 3D Printers
January 2, 2019
Artificial intelligence-based pixel-tuning said to deliver high-quality 3D parts.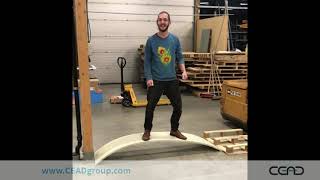 CEAD Sets Sail With Large-scale Continuous Fiber Printing
December 26, 2018
CEAD Group's CFAM Prime 3D printer brings continuous fiber printing for composite applications to an industrial scale.
Latest News
MSC Software Debuts MSC Nastran 2019.0 and MSC Apex
MSC Nastran is a FEA solver that enables simulation of various multidisciplinary engineering problems....
OPEN MIND presents hyperMILL 2019.1
OPEN MIND has expanded the finishing module in the hyperMILL MAXX Machining performance package.
Sintratec Offers Fully Integrated SLS System
Users benefit from a complete 3D printing system covering the entire processes from printing...
ABI Research's New Industrial Solution Guides Manufacturers Through Digital Transformation
18 technologies help digitize operations to create better products at lower costs.
All posts