Editor's Pick: New technique enhances photopolymer additive manufacturing
April 1, 2020
Fortify Continuous Kinetic Mixing System meets the need for advanced material properties in additive manufacturing. 
University of South Florida Health Joins Forces with Formlabs and Northwell Health to Create 3D Printed Nasal Swabs 
March 31, 2020
Purpose is to to test for COVID-19 in patients in emergency shortage situations.
FIU 3D Printing Face Shields for Healthcare Workers
March 31, 2020
Face shields are part of the personal protective equipment that healthcare workers at Baptist Health wear when caring for patients who have or are suspected to have COVID-19. 
Sigma Labs Launches PrintRite3D Production Series
March 31, 2020
New production dashboard and AI-driven metrics provide real-time information as 3D printing alternatives accelerate due to worldwide crisis.
Weerg 3D Prints Valves for Emergency Respiratory Masks
March 30, 2020
The company makes its production capacity available to hospitals to  create parts of medical instruments with 3D printing.
BEAMIT to Collaborate With Praxair Surface Technologies
March 30, 2020
BEAMIT specializes in the manufacturing of aviation components through additive manufacturing; Praxair Surface Technologies specializes in advanced coating solutions.
UL Study Identifies Safety, Performance Variability for 3D Printed Plastic Parts
March 30, 2020
New Blue Card certification for plastic AM will provide guidance for integrity, safety of 3D printing materials.
3D Systems Assists in Addressing Shortage Related to Medical Devices and Personal Protection Equipment
March 30, 2020
Company announces general availability of COVID-19 module for its Simbionix U/S Mentor simulator.
Stratasys Organizes 3D-Printed Protective Gear Drive to Fight COVID-19
March 30, 2020
Stratasys launches project to enlist 3D printer users to contribute to personal protective equipment production
Essentium and LEHVOSS Group Set Up Partnership
March 30, 2020
The partnership opens up the opportunity for the companies to develop high-performance materials for industrial-scale additive manufacturing.
Mastercam 2020 Multiaxis Machining Improves Productivity 
March 27, 2020
Mastercam Multiaxis offers a wide range of multiaxis machining strategies, both basic and advanced.
3Diligent Helping Coordinate Digital Manufacturing Response to COVID-19
March 27, 2020
Company is coordinating rapid manufacturing of PPE to ensure supply meets demand.
PTC Invites You to Use Vuforia Chalk for Free Amidst COVID-19 Crisis
March 27, 2020
PTC's remote assistance product, Vuforia Chalk, leverages augmented reality (AR) to enable offsite and on-site employees to collaborate.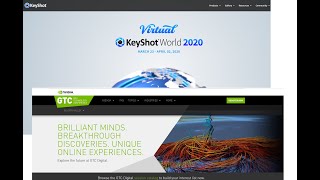 NVIDIA GTC and KeyShot World Go Virtual, 3D Printing Rushes to Produce PPE, More
March 26, 2020
Tech conferences switch to virtual events under lockdown, additive manufacturers spring into action to fight virusoutbreak
Siemens Opens Additive Manufacturing Network to Healthcare Industry
March 26, 2020
In response to the COVID-19 crisis, Siemens is giving healthcare providers and medical device designers access to its Additive Manufacturing Network.
Latest News
Digital Metal's New Software Upgrade Delivers Triple its Print Speed
This allows for significantly larger production volume per time unit while keeping the component quality, company says.
Campbell Hall 3D Prints Masks and Face Shields for Medical Community
School hopes to inspire others in education to join the movement.
Razorleaf Corporation Launches Manufacturing Suite for Aras Innovator Platform
Company extends PLM capabilities to automate processes for manufacturers.
ZVerse Announces Plans to Produce 20 Million Face Shields
Small digital manufacturing company pivots to support COVID-19 response.
All posts