MachineWorks 8.5 Now Released
May 22, 2023
One feature is improved generation of rest material and gouge contours for multi-axis machining.
ASTM Unveils AM Quality Certification Program
May 19, 2023
The program demonstrates additive manufacturers' capability to produce parts with consistent quality by complying with published ISO/ASTM standards with a multi-industry focus, ASTM reports.
ADDiTEC Launches Performance AMRC-P Additive System
May 19, 2023
The system is a forward-deployable robot cell rated for reactive materials.
Design Dynamics Launches 3D Printing Services In Toronto
May 19, 2023
Design Dynamics intends to expand to Toronto to empower a larger range of companies to optimize product development and small-batch production by using 3D printing technologies.
Ultra-high Accuracy, Precision, and Resolution Micro 3D Printed Medical Device Manufacturing
May 17, 2023
Discover how the use of micro-precision 3D printing is aiding medical device producers to tackle two common issues through this white paper.
Editor's Pick: Fast resin 3D printing
May 17, 2023
Nexa3D XiP Pro 3D printerNexa3D XiP Pro 3D printer is a new model in the company's line of resin photopolymer 3D printers.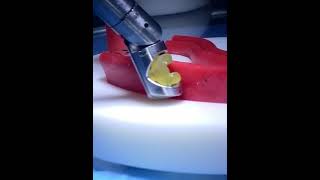 Minimally Invasive Surgery with 3D Printed Suturing Device
May 16, 2023
Despite its advantages, minimal invasiveness in surgery is impeded by a lack of specialized instruments suitable for such detailed and delicate tasks. As a result, patients cannot take full advantage of the potential reduced recovery times, improved outcomes, and lower...
Horizon Adds Metal Coatings
May 16, 2023
Coatings added to the company's portfolio of 3D micro fabrication technologies.
Siemens Named in Leaders Quadrant of Gartner Magic Quadrant
May 16, 2023
The company was named for MES for the sixth consecutive time.
Markforged Reports CFO Transition
May 16, 2023
Schwartz will continue to serve in an advisory role through July 15.
PTC Boosts Vuforia's Visual Inspection Capability With AI
May 15, 2023
Augmented reality solution can now support visual inspection on the shop floor.
3D Printed Packaging Market to be Valued at US$1.2 Billion in 2023
May 12, 2023
The sales of 3D printed packaging are expected to record a compound annual growth rate of 7.8% during the forecast period.
Recycled Surgical Implants Aid in AM Sustainability
May 10, 2023
6K's UniMelt process repurposes end-of-life medical implant parts into sustainable AM materials.
nTop 4 Now on Market
May 9, 2023
In nTop 4, a new capability called Field Optimization is a multi-objective, multi-scale and closed-loop optimization capability that is a means to design complex, high-performance parts.
AMFG Enables One-Stop Shop for Cross-Platform 3D Metal Production
May 9, 2023
Companies create integration link enabling bidirectional data exchange.
Latest News
Anycubic Kobra 2 3D Printer On Market
The upgraded tool head, electronics, and other mechanical changes are all features to help to boost speed and print quality,...
CIMdata Creates eBook on Vehicle Electrification
The eBook describes vehicle electrification engineering challenges and the capabilities of Siemens Digital Industries Software's integrated approach, CIMdata says.
TPM Establishes Additive Manufacturing Lab in South Carolina
This lab will serve as a regional demonstration center for additive and 3D printing technology, company says.
America Makes Awards Funding to Colorado School of Mines 
Project team to explore cross-platform consistency in laser powder bed fusion technologies, according to America Makes.
All posts