80-Plus Companies Make Print Profiles for Ultimaker's Material Alliance Program
April 12, 2019
Ultimaker first formed the program in April 2018 to meet the demand for industrial-grade engineering 3D printing materials.
Stratasys Inks Agreement with Pantone
April 12, 2019
Under terms of the agreement, Stratasys now becomes a 3D printing solutions provider with technology officially designated as PANTONE Validated.
Polyga Expands HDI Compact 3D Scanner Series
April 11, 2019
Polyga adds two more models, the HDI Compact L6 and the C504, to the 3D scanner line.
MultiMech 19.0 Delivers Expanded Simulation Capabilities
April 9, 2019
Release improves breadth and run times of multiscale composite simulations, company says.
Massivit 3D Launches New Versatile Massivit 1800 Pro 3D Printing Solution in the U.S.
April 9, 2019
Massivit 3D's new Massivit 1800 Pro offers new features including Variable Resolution and more.
CoreTech System Releases Moldex3D R17
April 9, 2019
This new simulation solution is made for smart manufacturing in plastics molding.
Heraeus Debuts Large Amorphous-metal Component
April 9, 2019
The gear wheel was printed in a standard selective laser melting system with material from Heraeus. 
Additive Manufacturing Users Gather to Address Challenges, Advance Industry
April 9, 2019
Materials, software and workflow challenges led the discussions at the Additive Manufacturing Users Group (AMUG) 2019 conference in Chicago last week.
Congress on the Future of Engineering Software 2019 Begins in Silicon Valley
April 9, 2019
Industry leaders gather for annual COFES event on engineering software for product and building design.
Championship-Level Disabled Athletes Tap into 3D Printing's Potential
April 8, 2019
3D printers were beneficial in designing an ergonomic hand bike handle for Florian Jouanny, the first European tetraplegic athlete who completed the Ironman Triathlon.
Partner Content
Workstations Meet Computer-Aided Optimization Software Challenges
April 8, 2019
Lower costs, higher power workstations evolve to power generative design and optimization-focused workflows.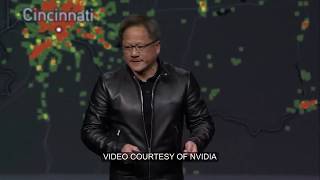 Video News Roundup: Epic Games' $100 Million Grant, NVIDIA's Workstation for Data Science
April 5, 2019
News from NVIDIA, TechSoft's HOOPS 2019 and Epic Games in this edition of DE's video roundup.
AddiFab to Showcase Blend of Additive Manufacturing and Injection Molding at RAPID + TCT in Detroit
April 5, 2019
At the RAPID + TCT show, AddiFab and Mitsubishi Chemical will be co-exhibiting the FIM technology paired with Mitsubishi Chemical's range of injection moldable materials.
Sintratec Debuts New Sintratec S2 SLS Solution
April 5, 2019
The modular and compact selective laser sintering system is built for scalability.
MecSoft Partners with FlexCNC
April 4, 2019
As part of this partnership, FlexCNC will be bundling MecSoft's VisualCAD/CAM product with their FlexCNC milling machines.
Latest News
Hexagon Releases Latest Update of EDGECAM
New release supports fast 5-axis machining tools; software features barrel cutter support and new gun drilling cycle.
Systems Engineering Software Update Advances Multidiscipline Simulation
Siemens PLM Software releases a full plate of new features in Simcenter Amesim 2019.1. 
Sponsored Content
Editor's Pick: Multi-domain Systems Analysis Just Got Easier
Siemens PLM Software updates Simcenter Amesim with new features in four broad categories.
Researchers Freeze-Print Graphene Battery Anodes
A team at Kansas State University used a freeze printing approach to create sodium ion batteries with hybrid graphene aerogels.
All posts