Jabil Offers Comprehensive Materials Services for 3D Printing
February 12, 2019
Engineering services and new innovation center can accelerate materials development.
Stratasys Software Aims to Remove Complexity From Design-to-3D Print Process
February 12, 2019
Advanced FDM Software designed to eliminate CAD-to-STL roadblock, streamlining workflow, production times and material usage.
EOS Acquires Vulcan Labs
February 12, 2019
With acquisition, EOS aims to enhance its additive manufacturing talent pool, to continue to deliver custom solutions, augment R&D and drive commercialization of EOS 3D printing platforms.
Rize Receives Frost & Sullivan Award for Best Practices in Technology Innovation for Zero-Emissions Polymer Additive Manufacturing
February 11, 2019
Award given to Rize for technology innovation best practices for zero-emissions polymer additive manufacturing.
Rize Partners with Instadesign Group
February 11, 2019
With this announcement, RIZE has introduced its additive manufacturing solutions to the Quebec, Canada, market.
Orbex Builds 3D Printed Single-Piece Rocket Engine
February 11, 2019
The Orbex launcher uses 100% renewable fuel to cut carbon emissions by 90% and a zero-shock staging and payload separation resulting in zero orbital debris.
America Makes Announces Qualified Database of Material Properties for FDM Additive Manufacturing of Resin
February 8, 2019
Database released to the Institute and its members to enable use of ULTEM 9085 Resin for aerospace interiors.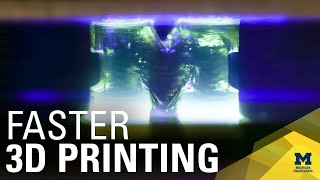 University of Michigan Researchers Tout High-Speed 3D Printing Approach
February 6, 2019
The process employs dual light sources in place of an oxygen membrane to print at 100 times the print speed of conventional offerings.
ActivArmor 3D Printed Casts Coated with Line-X to Offer Strength and Resistance to Water
February 5, 2019
LINE-X coating is applied to ActivArmor casts/braces during the manufacturing process for added durability and versatility for active lifestyles, company reports.
Riddell Partners with Carbon to Produce 3D Printed Football Helmet Liner
February 1, 2019
The Riddell SpeedFlex Precision Diamond Helmet delivers innovation with new digitally manufactured football helmet liner.
AMUG 2019 Preview
February 1, 2019
Additive Manufacturing User Group Conference set for March 31-April 4, 2019, Chicago.
KDT Leads $160 Million Investment in Desktop Metal
February 1, 2019
Combined funding rounds are now at $438 million, reportedly making Desktop Metal a highly funded private 3D printing outfit.
Cool Idea! Award Grant Helps Push Automated Ear-Care Device toward Commercialization
February 1, 2019
Protolabs' Cool Idea! Award helps SafKan in meeting customization requirements during beta program stage.
Solvay Expands Polymers Offering for 3D Printing Simulation
February 1, 2019
Solvay adds two new materials to e-Xstream engineering's latest release of additive manufacturing software. 
Striving for Zero
February 1, 2019
Reducing, or even eliminating, the use of physical prototypes can yield tremendous benefits. The question is: How do you proceed?
Latest News
Exploring Digital Transformation as an Evolutionary Journey
SolidWorks World 2019 presentation advises to forget about specific products and work on themes that...
Dassault Systèmes to Acquire Trace Software's elecworks Product Line
Elecworks is at the core of SolidWorks Electrical applications used for smart product development...
UL Opens Catalog of Safety Standards
A library of more than 1,400 standards is now available to all.
AMD Radeon Pro Software for Enterprise 19.Q1 Features SolidWorks Performance Improvements
Radeon Pro Software for Enterprise 19.Q1 updates product design workflows with features aimed at...
All posts