Marshall Aerospace and Defence Works with Stratasys Technology to 3D Print Final Flight Parts for Aircraft Program
June 11, 2019
The company also builds ground-running equipment on the Stratasys Fortus 450mc 3D printer in tough Nylon 12 material at lower cost than aluminum production.
The Looking Glass Factory Launches Standalone Desktop Holographic Display
June 10, 2019
The Looking Glass Factory launches desktop holographic display box with built-in computing power
Siemens Adds Augmented Reality for Enhanced Visualization and Collaboration to Solid Edge 2020
June 10, 2019
New simulation validation capabilities help to improve quality and reduce costly prototypes, company says.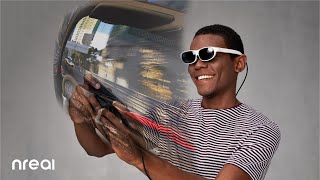 DE Video News: AR Tech at Augmented World Expo
June 6, 2019
Small compute boxes for augmented reality, holograms that respond to touch, and eye tracking to replace mouse clicks.
Markforged 3D Printers to be Featured in the BattleBots 2019 World Championship
June 6, 2019
Markforged helped 29 BattleBots teams compete for the title with metal-strength, lightweight parts.
Researchers in Denmark Apply AI to Autonomous Drones
June 6, 2019
The AiR Lab designs and prints its own drone prototypes while developing hybrid controllers.
Artec 3D Releases Artec Studio 14 with Functionality for Quality Inspection
June 4, 2019
New features include integration with metrology-grade desktop 3D scanner Artec Micro, target-free registration for 3D laser scanner Artec Ray, and Direct Export for CAD/CAM, Automatic Glare Removal.
Digital Twins and the New Reality
June 1, 2019
As mixed reality systems become more affordable, capable and easier to use, manufacturing is making use of mixed reality for digital twins.
Prepare for Reshoring
June 1, 2019
Learn how small- to medium-sized manufacturers can prepare for a manufacturing resurgence driven by reshoring and regulatory changes.
The Art of Balance in Mixed Reality
June 1, 2019
Resolution, weight and price are part of the equation for virtual reality and mixed reality success.
What Speed Needs
June 1, 2019
One way to change the culture is to connect different stakeholders in a collaborative environment.
Simulation Transition: Materials
June 1, 2019
It is fundamentally essential to understand how your simulation software incorporates the mechanical properties of materials.
SABIC Launches New Breakaway Support Filament
May 31, 2019
Filament designed to boost productivity for part manufacturers, company says.
Nano Dimension Collaborates with Harris Corporation for Space Project
May 31, 2019
Nano Dimension and Harris Corporation receive grant approval to create hardware to fly on the International Space Station.
AWE2019: Changing Power Dynamics, New Displays at the Augmented Reality Show
May 31, 2019
Augmented reality show brings out new displays, headsets, and pocket-sized powering devices
Latest News
Unrivaled Compute Power in a 15-in. Mobile Workstation
Among the new systems, the ThinkPad P53 is a powerful 15-in. mobile workstation, offering the power of the NVIDIA Quadro...
Editor's Pick: Tensor Cores and Real-time Ray Tracing Go Mobile
Lenovo introduces high-end versatility in a 15-in. mobile workstation. 
ExOne Initiatives Target Industrial 3D Printing
ExOne debuts industrial 3D sand printer; partners with Siemens; announces marketing initiative with new website.
European Space Agency Awards Contract to Siemens and Sonaca
Siemens and Sonaca will collaborate to enhance Siemens' end-to-end additive manufacturing solution with Sonaca's aerospace structure design and manufacturing...
All posts