Sponsored Content
Reliable, On-Demand Manufacturing
December 16, 2020
Forecast 3D provides the digital manufacturing services that can improve supply chain sustainability and flexibility.
Editor's Pick: Debuting filament-based stainless steel for additive manufacturing
December 15, 2020
Forward AM/BASF Ultrafuse 17-4PH is a filament comprising metal powder with a polymer binder.
VELO3D Partners with GoEngineer to Meet Demand for Metal 3D Printing Systems
December 15, 2020
GoEngineer will represent VELO3D in sales and service throughout the United States.
Stratasys to Buy Origin
December 14, 2020
Origin's resin-based Programmable PhotoPolymerization (P3) technology expands Stratasys capabilities in the arena for 3D-printed mass production parts.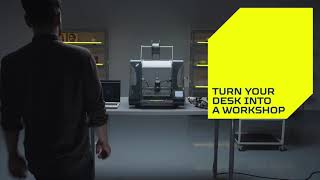 Zmorph Launches New Industrial 3D Printers
December 14, 2020
Company also rolls out new strategy and branding to further target the industrial sector.
Solvay Partners With PrinterPrezz on 3D Printing
December 14, 2020
Solvay and PrinterPrezz are collaborating to develop 3D printing selective laser sintering solutions (SLS) for implants and other medical devices.
XRby and Ansys Expedite Luxury Wristwatch Development
December 11, 2020
Ansys' optical design simulation software cuts design time and eliminates physical prototype testing.
Structur3d Launches Inj3ctor Rapid Desktop Manufacturing Solution
December 11, 2020
The Inj3ctor empowers product engineers and manufacturers to accelerate research,  prototyping and production with thousands of factory-grade liquid rubber materials.
3D Systems Launches Environmental, Social and Governance Initiative
December 11, 2020
Company is formalizing its commitment to taking action on global environmental, social and health issues. 
Sponsored Content
Podcast: Virtual Reality Improves Remote Collaboration
December 10, 2020
BETA CAE Systems joins us to discuss how VR technology can enhance remote engineering collaboration.
DigiProces Adopts Aegis' FactoryLogix Solution
December 10, 2020
Solution to enhance DigiProces' advanced digital manufacturing business strategy, company says.
Sponsored Content
Podcast: Additive Manufacturing Fuels Sustainability Effort
December 9, 2020
Forecast 3D outlines how 3D printing and digital manufacturing can improve supply chain sustainability.
AMUG Conference Heads South for the Spring
December 9, 2020
Additive Manufacturing Users Group (AMG) conference will move to Orlando in May.
Digital Metal Launches Tool Steel Alloy for Binder Jetting
December 8, 2020
DM D2 is a tool steel alloy that provides an effective combination of abrasive wear resistance and toughness, according to Digital Metal.
AMFG Collaborates With HP on Additive Manufacturing
December 8, 2020
Integration of HP 3D API with AMFG Additive MES software enables machine control and monitoring.
Latest News
OPEN MIND Debuts hyperMILL 2021.1 CAD/CAM Software Suite 
Innovations and enhancements optimize machining tools and molds and more.
Nexa3D and Keystone Industries Team Up for 3D Printing Solutions
Under this agreement, both companies will combine their extensive dental, photopolymer and 3D printing capabilities to deliver 3D printing solutions...
Purdue University Turbulence Model May Aid in Design of Aircraft
Engineers enable simulation of complete 'dance' of colliding vortices at reduced computational time.
Sponsored Content
GPU-Accelerated Visualization Makes its Mark
More software solutions are taking advantage of real-time ray tracing and enhanced visualization made possible via the GPU.
All posts