DSM and Adaptive3D Partner to Commercialize Tough 3D Printing Photopolymer
May 23, 2019
DSM to help produce, distribute and sell Adpative3D's Soft ToughRubber.
SmileDirectClub to 3D Print 20 Million Mouth Molds in Next 12 Months using HP Multi Jet Fusion
May 23, 2019
SmileDirectClub disrupting $12 billion orthodontics industry with affordable, personalized and sustainable 3D production using factory of 49 HP Jet Fusion 3D printers.
Essentium Shows Off High Speed Extrusion (HSETM) 3D Printing Platform
May 23, 2019
Showcased publicly in the US for the first time at Rapid + TCT, the HSETM 3D printing platform promises speed, strength and scale.
Xjet 3D Printed Antenna to Enable University of Delaware to Unlock 5G Network
May 23, 2019
XJet NanoParticle Jetting technology helps solve the manufacturing and performance issues of Passive Beam Steering for superfast antenna applications.
Stratasys and Solvay Partner to Bring New 3D Printing Materials to Market and Expand Adoption in Manufacturing
May 23, 2019
Stratasys launches authorized materials partner program; Solvay selected as first materials provider to develop Stratasys-approved Fused Deposition Modeling (FDM) filament for F900 3D printer.
3D Systems Announces General Availability of Figure 4 Modular Digital Light Printing (DLP) Production Solution
May 23, 2019
Company also announces five new DLP and selective laser sintering (SLS) production materials.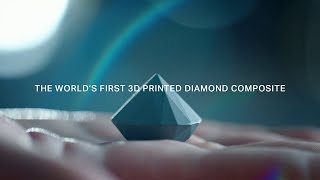 Sandvik Creates 3D-Printed Diamond Composite
May 23, 2019
Stereolithography used to create parts in complex shapes from composite diamond slurry.
SHINING 3D Launches the EP-M150 Metal 3D Printer
May 23, 2019
Compact 3D printer suited for small metal 3D printing applications.
MakerBot Expands METHOD 3D Printer Materials with Durable and Chemical-Resistant PETG
May 23, 2019
The first material for the MakerBot METHOD 3D printer in the Specialty Material line, PETG promises superior part durability and chemical resistance.
Markforged Launches Blacksmith Software that Uses AI to Automatically Adjust 3D Printers
May 23, 2019
America's Cup Challenger American Magic Flies Across the Water with Stratasys 3D Printing
May 21, 2019
US team for world-renowned competitive sailing event taps into carbon fiber for end-use racing parts.
Artec 3D Launches Artec Micro Industrial Desktop 3D Scanner
May 21, 2019
Scanner promises quality control of small objects, reverse engineering design and more.
Indo-MIM and Desktop Metal Set Up Partnership to Boost Adoption of Metal 3D Printing
May 21, 2019
Large metal injection molding company plans to deploy metal 3D printing at scale with the Production System.
AMT on the Importance of Automated Post-Processing for Additive Manufacturing
May 21, 2019
Company to highlight how its BLAST process intersects material science, hardware engineering and process automation at RAPID + TCT 2019; introduce the PostPro3DColor and PostPro3DMini systems.
Optomec to Demonstrate Simultaneous Five-Axis Metal Additive Manufacturing at RAPID-TCT 2019
May 21, 2019
New Optomec LENS additive plugin combined with the Siemens Sinumerik 840D controller said to provide advanced capabilities for 3D printing of metal parts.
Latest News
Bright Cluster Manager Is Now Qualified Software Stack for Intel Select Solutions for Simulation & Modeling
Bright Cluster Manager is a commercial cluster management software designed to automate the process of installing, provisioning, configuring, managing, and...
AMUG Gives Out DINO Awards
Award recognizes experience and service.
Nextflow Software Introduces Nextflow Studio
This fluid simulation software lets engineers manage easily their simulation projects and provides a graphical user interface (GUI) based on...
Ralf Hartmann of Airbus Defense & Space to Keynote ASSESS 2019 Congress
Hartmann's keynote presentation's title is "Multidisciplinary Integration Towards the Digital Twin."
All posts