Kinco Selects Centric PLM for Heavy-Duty Gloves
May 13, 2022
Kinco expects numerous benefits from Centric PLM, like having all material and product information in one digital hub.
Stratasys Expands Materials Ecosystem With 16 New Materials
May 13, 2022
First Validated materials for FDM 3D printers announced; P3 adds open, exploratory materials for Origin One 3D printer.
FREE WEBINAR JUNE 7: Extending Reality to Tomorrow's Trucks - Volvo's Collaborative Workspaces
May 12, 2022
Join Volvo Group, ESI Group and NVIDIA to learn how extended reality can improve product development.
Autodesk to Bring Sustainability Assessment Tools in Partnership with Makersite
May 12, 2022
Autodesk working with Makersite to bring sustainability measurement tools to conceptual design software
MakerBot and Ultimaker Merge Entities
May 12, 2022
The merger has secured additional funding of $62.4M to advance global 3D printing innovation.
Varjo's Urho Konttori on Streaming VR
May 12, 2022
Varjo founder and CEO Urho Konttori explains the implications of streaming VR content delivered from the cloud
Braskem Releases Sustainable 3D Printing Filaments
May 11, 2022
Filaments include bio-based EVA, recycled PE/PP blend as well as recycled PE/PP blend with carbon fiber.
Stratasys Adds Two Composite-Ready 3D Printers
May 11, 2022
New printers and Nylon carbon fiber material open up new additive manufacturing avenues on the factory floor, company says.
3D Printing Trend Report 2022 Now Out
May 11, 2022
Great growth predicted for 3D printing industry—market is expected to triple by 2026.
Stratasys Expands Additive Manufacturing Applications
May 11, 2022
Latest updates include new systems, software and materials.
Editor's Pick: Finer details in 3D print model slicing
May 10, 2022
Ultimaker Cura 5.0 beta offers a new slicing engine designed to churn out parts with finer details.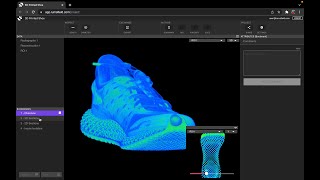 CT Scan for Engineering Parts
May 9, 2022
Lumafield develops CT scanner for engineering diagnosis
XJet Makes Entirely Ceramic Piston for Chaos Ultracar 
May 9, 2022
To make the engine a reality and support the performance levels required, the design for additive manufacturing 'anadiaplasi' piston was designed.
BigRep Debuts BigRep FLOW
May 9, 2022
BigRep FLOW is a new Software as a Service product.
Essentium and Vorum Advance Biocompatible 3D Printing
May 9, 2022
Partnership enables lightweight and comfortable devices for orthotics and prosthetics patients.
Latest News
Autodesk Accelerate: Lessons on Transformation from the Big Easy
At Autodesk Accelerate Conference, Autodesk executives and customers discuss digital transformation.
EOS and Sauber Technologies Sign 3-Year Additive Partnership
Signed at the Formula 1 Grand Prix in Barcelona, the partnership will enable solutions for F1 and beyond, companies report.
Call for Entries for 2022 Die Casting Competition
The deadline is June 13, 2022.
Desktop Metal Launches DuraChain Photopolymers
DuraChain photopolymers deliver elastic, tough material properties for digital light processing printing through a photopolymerization separation process.
All posts