New Aerospace Additive Manufacturing Standards in the Works
May 8, 2019
ASTM International is creating safety standards for 3D printing parts.
Washington State Prohibits 3D Printed Guns
May 8, 2019
Law targets homemade weapons as state Attorney General battles Trump Administration over online distribution of print files.
Printing with Extruded Glass
May 8, 2019
Canadian researchers have printed with chalcogenide glass, which could lower the cost of creating complex optical components.
Open Source Desktop 3D Printer Built for Demanding Users 
May 8, 2019
LulzBot TAZ Workhorse is the next-generation 3D printer used by engineers and product designers in many industries.
Editor's Pick: Open Source 3D Printer is a Horse of a Different Color
May 8, 2019
LulzBot TAZ Workhorse Edition brings open source revolution to the engineering desktop.
COFES 2019: Mixed Reality with Visual Fidelity, Real-Time Simulation, Diversity, and More
May 8, 2019
Congress on the Future of Engineering Software tackles AR, VR, MR, real-time simulation, women in engineering, and more.
Hexagon's Manufacturing Intelligence Division Breaks Ground on New Center in Detroit Area
May 7, 2019
Hexagon's Manufacturing Intelligence division is constructing a new expansion project on a site in Novi, MI, slated for completion in the fall of 2019.
Artec 3D Launches Artec Micro Professional Industrial Desktop 3D Scanner
May 7, 2019
Scanner offers quality control of small objects, reverse engineering design and more, a solution for the metrology market, company says.
DMG MORI to Feature New Machining Technologies at Chicago Innovation Days
May 7, 2019
The event highlights include integrated digitization for planning, preparation, production, monitoring and service automation solutions for manufacturing and additive manufacturing.
Quintus Technologies HIP Enhances Serial Production for FIT Additive Manufacturing Group
May 7, 2019
German AM specialist adopts integrated high-pressure heat treatment to optimize quality in 3D printed parts.
Fictiv's 2019 State of Hardware Report Shows Tariffs Add Complexity for Product Teams Trying to Get to Market  
May 7, 2019
The survey shows teams have instituted tariff engineering measures such as depending on local manufacturers for product assembly and new manufacturing platforms.
AMT to Debut Post-Processing Technologies at RAPID 2019
May 3, 2019
The PostPro3D hardware system is an automated post-processing solution that can achieve a surface quality at least equal to injection molding on parts printed using various techniques.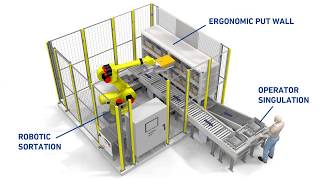 Digital Twins and Cyberphysical Security at AeroDef
May 3, 2019
DE Video News May 3, 2019: Digital twins and cyberphysical security discussions at AeroDef Conf, ANSYS acuires EDA firm
NCDMM to Host Its Annual SUMMIT Event
May 3, 2019
Conference to promote greater collaboration and information sharing among thought leaders from manufacturing, government, industry and academia.
The Cart Before the Autonomous Car
May 1, 2019
Adopting a new technology causes a ripple effect that can disrupt tried-and-true workflows and even entire industries.
Latest News
RAPID+TCT 2019 Drives Additive Manufacturing to Next Level in Motor City
Thousands of attendees delve into 3D printing, the future of manufacturing, digital twins, data management and so much more.
Jabil Inks Additive Manufacturing Agreement to Supply Parts to Renault F1 Team
On-demand delivery of racecar parts for Renault F1 Team driven by expansion at certified Jabil 3D printing facilities worldwide.
ExOne Announces Kennametal as Inaugural Beta Customer for New X1 25PRO Production Machine
ExOne also announced a new material partnership program, as well as more collaboration with Sandvik Additive Manufacturing.
Behind the Scenes at Materialise in the Midwest
Factory tour at Michigan-based 3D printing production facility provides a peek at the company's innovations in the medical sector.
All posts