HxGN Live 2019: Forging a Path in the Data Forest
June 26, 2019
At its annual conference HxGN Live, Hexagon executives propose finding intelligence in manufacturing data as the way to gain competitive advantage and build responsible, sustainable production processes.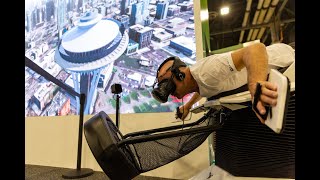 HxGN 2019 where AR/VR meets Metrology; Epson Releases Augmented Reality Remote Assist
June 21, 2019
Hexagon's HxGN highlights intersection of AR/VR and metrology; Epson launches AR-based remote assistance app.
Aras and Modelon Collaborate for Integrated System Modeling
June 20, 2019
Collaboration intended to support enterprise MBSE in the digital thread.
Airbus and ANSYS Partner to Enable Autonomous Flight
June 20, 2019
New agreement drives development of AI-enabled flight control software; goal is to support future combat air system by 2030.
Simufact Forming 16 Simulation Software Launches
June 20, 2019
The upcoming release covers highlights and improvements to create simulation models, set up complex manufacturing processes and more.
Rand Simulation Launches Turbomachinery Offering
June 20, 2019
The company has enhanced its collaborative consulting and overall business practice to include expertise focused on the turbomachinery industry.
MathWorks Offers New Scaling and Collaboration Opportunities in MATLAB
June 19, 2019
Now all researchers and students at academic institutions with a MathWorks Campus-Wide License that includes MATLAB Parallel Server have unlimited access to scale MATLAB programs and Simulink simulations to clusters and clouds.
Drivetrain Simulation Vendor Releases New Integrated Suite
June 19, 2019
New suite blends the company's separate products for drivetrain and related electromechanical drive systems.
Bright Cluster Manager Is Now Qualified Software Stack for Intel Select Solutions for Simulation & Modeling
June 18, 2019
Bright Cluster Manager is a commercial cluster management software designed to automate the process of installing, provisioning, configuring, managing, and monitoring clusters.
Nextflow Software Introduces Nextflow Studio
June 18, 2019
This fluid simulation software lets engineers easily manage their simulation projects and provides a graphical user interface (GUI) based on the latest software technologies. 
Ralf Hartmann of Airbus Defense & Space to Keynote ASSESS 2019 Congress
June 18, 2019
Hartmann's keynote presentation's title is "Multidisciplinary Integration Towards the Digital Twin."
KISTERS Debuts 3DViewStation Fast WebViewer for Catia, NX, Creo and more  
June 17, 2019
3DViewStation WebViewer gives the ability to instantly load native CAD data from various sources like: Catia, NX, Creo, Inventor, Solidworks, Revit and others.
ANSYS Study Measures Consumer Perception on Autonomous Aircraft
June 17, 2019
Through the survey, ANSYS measured consumer sentiment around the future of autonomous aircraft.
CONTACT Software Presents at the NAFEMS World Congress 2019 
June 14, 2019
The topic will address PLM- and microservice-based integration approach of model-based systems engineering.
Dassault Systèmes Acquires Medidata Solutions
June 13, 2019
Medidata Solutions' clinical cloud solutions are used by 1,300 customers worldwide to develop their therapeutic innovations and clinical operations performance.
Latest News
Chaos Group previews Project Lavina, SimScale releases radiation simulator, Onshape recognized by World Economic Forum
In this episode of DE News Roundup, Chaos Group previews Project Lavina for real time ray tracing, SimScale releases radiation...
AMD Radeon Pro Software for Enterprise 19.Q3 Is Optimized for Professional Applications
The latest driver also continues to prove the value of updating professional drivers, with Day Zero certifications to help ensure...
Moldex3D Partners with Wittmann Battenfeld on LSR Injection Molding and Smart Manufacturing
The memorandum of understanding is aimed at bringing together both parties' extensive knowledge and technical expertise to advance the role...
Siemens Debuts More Tire Modeling Capabilities in Real-Time Environments
The Simcenter Tyre team releases MF-Tyre/MF-Swift 2019.1 with more possibilities to test with MSC ADAMS.
All posts