Evaluating Optimal Designs With CORTIME
June 13, 2018
How confident are you of finding the most optimal solutions, when generating new designs? If your design process is still based on trial and error, CORTIME may challenge your process. The computer-aided optimization tool couples an intuitive interface with optimization...
Wichita State University Enhances Applied Learning with 3DEXPERIENCE
May 23, 2018
The National Institute for Aviation Research at Wichita State University is creating a 3DEXPERIENCE Center as part of its newly built Innovation Campus. Thanks to an integrated platform with unified access to a system digital mockup, composites design technologies, project...
Special Vehicle Innovation Protects Life Using Creo: Customer Story
May 23, 2018
Learn how SVI uses PTC Creo to design and develop armored vehicles and civilian transportation that protect people from ballistics and explosive devices.
PAM-STAMP 2018 Debuts
May 2, 2018
ESI says its end-to-end sheet metal forming simulation solution can help engineers realize lightweight designs using innovative materials.
How EOS Views the Future of 3D Printing
April 25, 2018
Materialise speaks with the CEO of EOS about what it will take for 3D printing to achieve even greater success in the future. Dr. Adrian Keppler notes the importance of identifying the right parts and the right application, scaling them...
Stratasys Aids ULA in Creation of Aircraft Innovations
April 25, 2018
Developing launch vehicles for NASA, the Air Force and commercial satellites, United Launch Alliance recognizes the versatility of 3D printing as a serious manufacturing tool. After attaining two Fortus 900mc 3D Production Systems from Stratasys, ULA started updating the Environmental...
AMRC Taps Into Virtalis' VR Capabilities
April 25, 2018
The Advanced Manufacturing Research Centre and Virtalis have informally collaborated on various projects over almost a decade. Currently, the AMRC is using Virtalis' Visionary Render 2 for virtual prototyping.
3D Printing and Affordable Components Are Creating Big Opportunities for Hardware Developers
March 7, 2018
Digital manufacturing, affordable components and crowdfunding are creating massive opportunities for people who want to start developing hardware.
Autodesk Explores Immersive Design
March 7, 2018
Augmented and virtual reality offer a fundamental shift in how users can perceive and interact with a design system.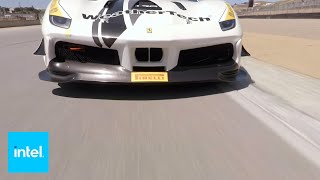 Intel Taps AI to Drive Racecar Experience
February 7, 2018
Learn how data and analytics are driving the new Intel and Ferrari partnership, and how the company is employing AI to push forward the driving experience.
Stratasys Provides Customized Manufacturing Solutions
February 7, 2018
Stratasys has solutions for manufacturers that rely on highly customized manufacturing aids like jigs and fixtures to ensure quality, efficiency and worker safety.
HP Camera Simplifies 3D Scanning
February 7, 2018
Reinvent creative workflows and spark spontaneous collaboration with the HP Z 3D Camera, which adds down-facing 3D object, 2D document, and live video capture to your display.
Company Uses Ultimaker Printer to Prototype Robot Fingers
February 7, 2018
See how ABB Robotics saves time and money with 3D prototyping. ABB Robotics turned to the Ultimaker 2 Extended+ for making prototype fingers for their robot YuMi.
AMUG Releases Keynote Speaker List for 2018 Conference
February 6, 2018
Todd Grimm, of T. A. Grimm & Associates and AMUG's AM industry advisor, and Dominik Rietzel, head of BMW Group's Additive Manufacturing Center (Non-Metal), will kick off the AMUG presentation lineup.
Emotion as a Product Design Parameter
February 1, 2018
New technologies emerge to let engineers monitor, interpret and incorporate human emotions into product design.
Latest News
Editor's Pick: Accelerating electromagnetics simulation
Siemens Simcenter 2022.1 has updates in three specific applications: Simcenter SPEED; Simcenter Motorsolve; and Simcenter MAGNET.
IMAGINiT Launches Clarity 2023
This enterprise-level suite of products can improve architecture, engineering and construction firms' advances in process automation.
Morf3D and Constellium Ink Joint Additive Manufacturing Program
Constellium's Aheadd CP1 offers benefits including thermal and electrical conductivity approaching that of pure aluminium, the company reports.
JIE USA Debuts 3D CAD Configurator Built by CADENAS
Motor and drive manufacturer unveils tool for on-demand, online design and product selection.
All posts