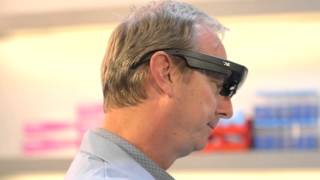 PTC Draws On Augmented Reality to Round Out its IoT Vision
February 1, 2016
Using an augmented reality platform to overlay digital data, companies can elevate interaction with a product to provide service operators with detailed instructions or facilitate design reviews for engineers.
PTC Gets Real With Augmented Reality
November 4, 2015
As an augmented reality technology, Vuforia will help PTC bridge the digital and physical worlds.
IMAGINiT Announces Reality Capture Services
April 14, 2015
The division will provide proof of concept, strategic business planning and project assistance, and customized training.
Wearable, Gesture-Controlled 3D Interface
December 4, 2001
Latest News
AI-powered App for Enhanced Machine Optimization
The igusGO app is an AI-powered app that allows machine operators to find opportunities to implement igus products in their...
Keeping Pace With Needs of Workstation Users
Post-pandemic, engineers and designers want a balance between power and form factor for the newest workstations.
RAPID + TCT to Return to West Coast in 2024
AM industry reportedly growing at a rate of 21% through 2027, according to SME.
FREE WEBINAR DEC. 14: Building Shared Context for Effective Digital Twins
In this Rescale webinar, learn how HPC and artificial intelligence can optimize industrial digital twins.
Industry Leaders Shift Strategies to Harvest AI Spring
AI-powered simulation and natural language input poised to become the norm.
Stratasys Partners with Siemens Healthineers
The joint development leverages Stratasys' PolyJet and RadioMatrix technology with Siemens Healthineers' advanced algorithm for scanned patient images.
All posts