PTC Updates Vuforia AR Platform
October 24, 2017
Among other announcements, PTC details the upcoming release of the newest version of its Vuforia platform for augmented reality development.
Umbra's New Game is in Architecture and Manufacturing
October 17, 2017
PTC Transfers Global Headquarters to Boston
September 19, 2017
PTC's new headquarters will be located in Boston's Seaport District.
Exploring Virtual Reality in Product Design at the Rave Cave
August 11, 2017
Visit the Rave Cave to test drive virtual reality hardware and software.
Modeling for the Augmented Reality Age
August 1, 2017
Early virtual and augmented reality developers balance new working paradigms with the mouse-and-keyboard legacy.
Review: Going Virtual with the BOXX ProVDI 8401R-V
July 1, 2017
Our hands-on review answers the question of whether VDI is right for you.
GPU Splitting Leads to Lighter, Nimbler VDI
July 1, 2017
Honda R&D recalibrates virtual desktop infrastructure, enhancing data center efficiency by up to 40% with NVIDIA GRID and optimizing technology.
Give it Up for PTC's Next-Gen PLM Concept Built on IoT
May 24, 2017
PTC CEO Jim Hepplemann wove together the company's forays into IoT, machine learning and analytics, augmented reality, 3D printing, application lifecycle management (ALM), and industrial connectivity.
Engineering the Wow Factor into Sales with Augmented Reality
May 1, 2017
Positioning virtual products in real spaces via augmented reality gives manufacturers an advantage.
Manufacturers Shape Augmented Reality's Future
April 28, 2017
The augmented reality functional requirements will be made publicly available on the AREA site and future efforts include reviews of current AR hardware and software solutions against the benchmark.
Find Out What Happens When AI, AR, and Generative Design Come Together
December 21, 2016
LiveWorx 2016: Physical Meets Digital
June 28, 2016
At this year's event, PTC outlines its software and strategy for next-generation product development.
PTC Announces Vuforia Studio Enterprise
June 7, 2016
The goal is to help companies integrate augmented reality for multiple applications.
Augment Desktop Incorporates 3D Models into Presentations
April 28, 2016
New Augment Desktop solution allows quick incorporation of 3D models into augmented reality presentations on and offline.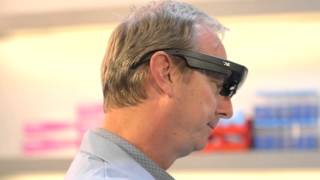 PTC Draws On Augmented Reality to Round Out its IoT Vision
February 1, 2016
Using an augmented reality platform to overlay digital data, companies can elevate interaction with a product to provide service operators with detailed instructions or facilitate design reviews for engineers.
Latest News
Siemens Expands Partnership with EOS
Through this agreement, EOS North America will be able to resell Siemens' software solutions for additive manufacturing (AM) with its...
Fraunhofer IGD Develops Automated Robotic Arm
The mobile scanner CultArm3D delivers 3D models of exhibits of various sizes at the push of a button, according...
3D Printing Deployed in the War on Head Lice
Enventys Partners, Stratasys leverage additive manufacturing to reduce costs, design constraints and lead time on new head lice treatment.
Editor's Picks: Feb. 18-24, 2021
One of the picks will be chosen as DE's Editor's Pick of the Week.
All posts