MapleSim Insight Release Supports Digital Twin-based Solutions
June 4, 2021
The latest release of MapleSim Insight provides enhanced simulation-based 3D visualization and debugging capabilities.
3D-Tool CAD-Viewer and Converter Version 15 Now Available
May 11, 2021
The 3D-Tool CAD-Viewer is built to be a user-friendly tool for evaluating and coordinating 3D designs.
nTopology 3.0, Powered by GPU Acceleration, On the Market
April 26, 2021
An interactive preview of nTopology 3.0 is available for anyone to download by creating a free nTop account.
Bridge the Gap Between CAD and XR With Release of Theorem-XR
April 23, 2021
This latest release sees the Theorem-XR portfolio offering support for Microsoft HoloLens 2.
NVIDIA Launches Omniverse Design Collaboration and Simulation Enterprises
April 12, 2021
Computer makers launch workstations and NVIDIA-certified systems for Omniverse; BMW Group, Ericsson, Foster + Partners, WPP among early adopters.
Report Offers Global Forecast up to 2026 on the Simulation Software Market
April 2, 2021
The simulation software market is driven by factors such as use of advanced technologies for simulation and avoiding production of faulty products to boost the growth of the simulation software market.
Safeguarding Engineering in the Work-from-home Era
April 1, 2021
Securing design data requires a holistic approach that includes both technology and good policies.
RSim 3.0.0 Now on Market
March 9, 2021
RSim 3.0.0 includes multiple enhancements to visualization, modeling and statistical analysis capabilities.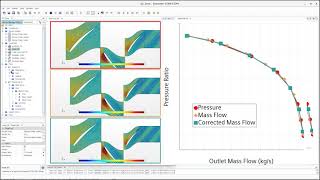 Simcenter STAR-CCM+ 2021.1 Out Now
March 1, 2021
Company to host virtual launch event of Simcenter STAR-CCM+ 2021.1 on March 9, live on LinkedIn.
NVIDIA Announces Financial Results for 4Q
March 1, 2021
Company full-year revenue of $16.68 billion, up 53%.
Fraunhofer IGD Develops Automated Robotic Arm
February 26, 2021
The mobile scanner CultArm3D delivers 3D models of exhibits of various sizes at the push of a button, according to Fraunhofer.
KISTERS 3DViewStation Offers Visualization for Teamcenter Engineering and ActiveWorkspace
February 16, 2021
Features include fast file load, measurement, section, comparison up to clash, clearance, wall thickness, draft angle, undercut analysis for NX, JT, Catia, Creo and more, company says.
Digital Twins Coming Into Focus
January 4, 2021
Augmented and virtual reality can help users better understand complex digital twin data.
VRSquare Licenses Datakit Technology for 3D CAD Data Import
December 28, 2020
Providing interoperability between optimization for AR/VR applications and CATIA V5 3D data
Materialise Introduces VR Capabilities for Medical Planning in Mimics Viewer
December 7, 2020
Interactive VR models complement 3D printing as a faster solution for remote planning and collaboration.
Latest News
Carbon Shares Platform Improvements
Company introduces new EPU 46 resin with color options.
COMSOL Announces Program for COMSOL Day: Aerospace & Defense
The event will explore multiphysics simulation applications and modeling topics supporting innovation and design in the aerospace and defense industry.
Keysight Highlights EDA 2024 Integrated Software Tools
This integrated EDA software is designed to increase productivity for engineers developing high-speed products in multiple applications, the company reports.
3D Systems Partners with Klarity
Klarity Prints, powered by 3D Systems, is a service-based line of 3D-printed radiotherapy accessories.
Altair Takes Home Awards from Fortune, Newsweek
Altair has been named to two lists that recognize companies that put employees first, Altair reports.
US DoD Deploys SPEE3D Printers to Ukraine
SPEE3D supplies 3D printers and training for Ukrainian soldiers and engineers to manufacture and repair military equipment in the...
All posts