TraceParts Launches Website
May 11, 2022
Website features revamped design and an enhanced user experience.
Moffitt Streamlines Custom Vent Designs With Discovery Live
October 16, 2019
With ANSYS real-time simulation, customers can visualize natural ventilation solutions quickly, shortening design cycles and accelerating sales.
Altair and Chroma Collaborate on Digital Twins for Electric Vehicle Propulsion Testing Systems
July 29, 2019
This effort entails the integration of model-based development simulation methodologies with Power Hardware-in-the-Loop (PHIL) testing to achieve the performance requirements of e-propulsion systems.
Mechanical Simulation Adds Electric Powertrains for CarSim and TruckSim 2019.1 
July 29, 2019
CarSim and TruckSim support options for extending the vehicle models; those options have been used in the automotive industry to interface VehicleSim products with external powertrain models.
SCALEXIO AutoBox Prototyping System Now on Market
July 26, 2019
In-vehicle real-time system has high computing power and comprehensive bus support.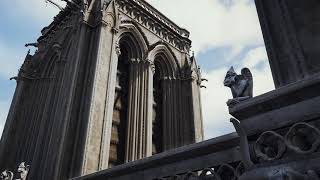 DE News Roundup April 19, 2019: Technology to help rebuild the Notre-Dame, AU calls for papers, more
April 19, 2019
Design software maker and game publisher pledge to help rebuild the Notre-Dame, Siemens release new robotic simulation software, AU calls for paper
Mechanical Simulation Releases CarSim, TruckSim, BikeSim, and SuspensionSim 2019.0 
January 23, 2019
The VehicleSim products CarSim, TruckSim, and BikeSim have featured high-fidelity math models for vehicle dynamics that can reproduce physical test results.
The STEM Gender Gap
October 19, 2018
ANSYS Kicks Off New AppStore
October 16, 2018
The new ANSYS AppStore enables an eCommerce buying experience, and makes it easy for customers and partners to search, shop, share and sell simulation applications created by ANSYS and its partners. 
Dispatches from SIGGRAPH 2018: NVIDIA RTX with AI, Cloud Rendering from Chaos, Gravity Sketch for VR, and more
August 28, 2018
In NVIDIA's keynote at SIGGRAPH 2018, GPU maker reveals RTX lineup for GeForce and Quadro GPUs. Chaos Group launches V-Ray for cloud, Epic Games highlights Unreal Studio, and Gravity Sketch offers sketching for AR-VR.
A Smart Language for Additive Manufacturing
August 16, 2018
Researchers at the University of Huddersfield are creating a new smart language that can enable better communication between designers and engineers that are creating objects using 3D printing.
Siemens Folds Mendix's Low-Code App Dev Environment Into IoT Vision
August 14, 2018
The roughly $700 million acquisition, which adds Mendix into the software business of Siemens' Digital Factory Division, is a critical piece of the company's strategy to position its MindSphere IoT platform for digital transformation.
3Diligent Boosts Digital Manufacturing Services
April 25, 2018
3Diligent adds comprehensive machining and casting services.
How EOS Views the Future of 3D Printing
April 25, 2018
Materialise speaks with the CEO of EOS about what it will take for 3D printing to achieve even greater success in the future. Dr. Adrian Keppler notes the importance of identifying the right parts and the right application, scaling them...
Stratasys Aids ULA in Creation of Aircraft Innovations
April 25, 2018
Developing launch vehicles for NASA, the Air Force and commercial satellites, United Launch Alliance recognizes the versatility of 3D printing as a serious manufacturing tool. After attaining two Fortus 900mc 3D Production Systems from Stratasys, ULA started updating the Environmental...
Latest News
Almost Perfect: Lenovo ThinkStation P360 Ultra
Lenovo delivers an ultrasmall workstation that's big on performance.
Carbon Shares Platform Improvements
Company introduces new EPU 46 resin with color options.
COMSOL Announces Program for COMSOL Day: Aerospace & Defense
The event will explore multiphysics simulation applications and modeling topics supporting innovation and design in the aerospace and defense industry.
Keysight Highlights EDA 2024 Integrated Software Tools
This integrated EDA software is designed to increase productivity for engineers developing high-speed products in multiple applications, the company reports.
3D Systems Partners with Klarity
Klarity Prints, powered by 3D Systems, is a service-based line of 3D-printed radiotherapy accessories.
Altair Takes Home Awards from Fortune, Newsweek
Altair has been named to two lists that recognize companies that put employees first, Altair reports.
All posts