Top Story
Jabil Offers Comprehensive Materials Services for 3D Printing
February 12, 2019
Engineering services and new innovation center can accelerate materials development.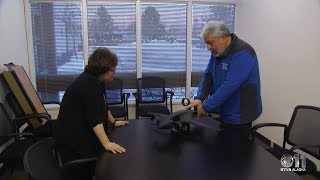 Autonomous Cargo Drone Does Heavy Lifting
March 27, 2019
Sabrewing has designed two hybrid-electric aircraft that can autonomously deliver hundreds of pounds of cargo to remote locations.
Jabil Offers Comprehensive Materials Services for 3D Printing
February 12, 2019
Engineering services and new innovation center can accelerate materials development.
BigRep, Bosch Rexroth Team on Large-Format Printing
November 5, 2018
Large format printers will include CNC-grade control systems and drives.
BigRep 3D Prints Airless Bicycle Tire
May 18, 2018
The tire is the latest application from the Berlin-based large-scale 3D printer manufacturer, as part of the company's focus on crafting industrial-grade solutions for the mobility industry. 
Sponsored Content
Making a Modal Hammer for Tight Spaces
March 6, 2018
When the tools for the job proved too cumbersome, this engineer re-engineered his tools and used production-grade 3D printing for the final part.
Mass Customization's Data Challenge
March 1, 2018
3D printing has evolved to make mass customization a reality, but capturing and integrating the relevant data to drive designs still requires some heavy lifting.
EnvisionTEC Unveils Two 3D Printers
November 16, 2017
The Perfactory 4 LED XXL from EnvisionTEC is a large DLP printer; the new Vida cDLM expands EnvisionTEC's family of high-speed continuous printers to three models.
Binder Jetting 3D Printer Can Produce Metal Objects
October 18, 2017
Digital Metal, a Höganäs Group company and producer of metal powders, has initiated commercial production of a high-precision binder jetting 3D metal printer that can produce small and intricate components.
Stratasys Expands Multimaterial Capabilities for Rapid Prototyping/Tooling
October 17, 2017
Stratasys' addition of Agilus30 rubber-like material and Digital ABS Plus engineering-grade material increases versatility of the Stratasys J750 full-color, multi-material 3D printing solution.
DuPont 3D Printing Filaments Available in North America
October 17, 2017
DuPont Performance Materials offers Hytrel thermoplastic elastomer and Zytel nylon-based filaments for 3D printing in the United States, Canada and Mexico through Coex.
HRL Prints High-Strength Aluminum Alloys
October 13, 2017
HRL's nanoparticle functionalization solution combines zirconium-based nanoparticles with the unweldable alloy powders, which prevents hot cracking and helps retain fully alloy strength in the final part.
Shatter Multimaterial Barriers
October 1, 2017
New multimaterial 3D printing capabilities usher in more realism to prototypes while advancing the freedom to design and manufacture innovative products.
voxeljet Presents High-Speed Sintering Process
September 26, 2017
voxeljet, manufacturer of 3D printing systems for industrial applications,  is releasing its High-Speed Sintering (HSS) process later this fall.
Mimaki Introduces UV Curable Inkjet System Full-Color 3D Printer
September 20, 2017
Mimaki Engineering Co., Ltd. will release the 3DUJ-553 in November 2017, a 3D full-coloring printer with UV LED curable inkjet system.
Desktop Metal 3D Printing Technology to Get Distributed via Morris Group
September 18, 2017
Morris Group, Inc. distributors to supply Desktop Metal 3D printing technology to metal cutting manufacturers in 30 states.
Latest News
Editor's Picks: Oct. 17-23, 2019
One of the picks will be chosen as DE's Editor's Pick of the Week.
New Industrial Design Software Has Roots in Engineering Simulation 
Inspire Studio is the most recent addition to the Altair Inspire Platform, which uses Altair's simulation expertise as a...
Editor's Pick: A Fresh Take on Industrial Design Software 
Altair Inspire Studio is part of Altair's Inspire Platform, a set of contemporary tools transforming product design by making...
Kisters 3DViewStation Offers Advanced Visualization for PLM Systems 
3DViewStation ships with current and mature importers for a broad range of 3D and 2D formats.
All posts