Top Story
Ansys Discovery Reduces Engineering Labor by 26%
July 17, 2020
Simulation-driven design tool combines instant physics simulation, interactive geometry modeling.
Ansys Discovery Reduces Engineering Labor by 26%
July 17, 2020
Simulation-driven design tool combines instant physics simulation, interactive geometry modeling.
Moffitt Streamlines Custom Vent Designs With Discovery Live
October 16, 2019
With ANSYS real-time simulation, customers can visualize natural ventilation solutions quickly, shortening design cycles and accelerating sales.
Plugging GPUs into the Metal AM Workflow
April 1, 2019
When it comes to metal-based AM, organizations are looking to harness the power of graphics processing units.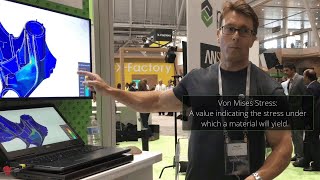 Creo Goes for Real-Time Simulation Feedback
March 19, 2019
Creo Simulation Live embeds ANSYS simulation capabilities directly into the CAD tool interface.
Partner Content
Start Fast, Finish Faster
January 14, 2019
How quick simulations at the design concept stage can speed the entire product development process.
Partner Content
The Growing Acceptance of CAE
December 18, 2018
Partner Content
CAD Embedded CFD: Overhyped, but a Good Value for Some
December 14, 2018
One particularly beneficial aspect of CAD-embedded or CAD-linked CFD is its potential for enabling and streamlining parametric studies.
Frustum Acquisition to Add Generative Design Muscle to PTC Creo
November 20, 2018
Slated to debut in future versions of the PTC Creo CAD tool, Frustum's AI-based generative design capabilities will make it easier for engineers to innovate product breakthroughs.
Optimize Your Simulation Workflow
November 1, 2018
A variety of industry tools and platforms aim to streamline workflows to accommodate more advanced analysis and to promote design optimization.
PTC Partners to Advance Pace of Innovation
June 20, 2018
PTC's Jim Heppelmann made a series of announcements, led by partnerships with ANSYS and Microsoft, that are designed to advance PTC's transformation.
Future Glimpses: On-Demand Production, Cloud-Hosted Products, and Converging Technologies Redefine Manufacturing
February 22, 2018
ANSYS Launches Discovery Live
February 13, 2018
Latest News
Engineering Services Outsourcing Market Size Worth $8,126.49 Billion by 2029
Corporations are putting money into R&D and concentrating on offering personalized solutions to their clients, research company reports.
Lufthansa Technik Uses Ansys Technology
Partnership enables Lufthansa to develop and certify AeroSHARK technology for more sustainable aviation, companies report.
FARO Partners With Hologate
HGXR systems will integrate FARO digital scanning technology.
Is AI Ready to Make Autonomous Vehicles a Reality?
Automotive OEMs are bringing the power of artificial intelligence to the development of self-driving cars.
All posts