The Looking Glass Factory Launches Standalone Desktop Holographic Display
June 10, 2019
The Looking Glass Factory launches desktop holographic display box with built-in computing power
Varjo Announces XR-1 Developer Edition, A Video-Pass-Through Headset For Engineers
May 29, 2019
XR-1 delivers photorealistic visual fidelity in full field of view, resulting in mixed reality; Volvo Cars invests in technology.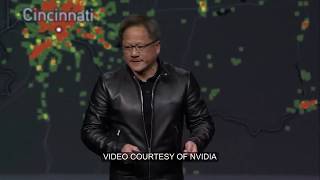 Video News Roundup: Epic Games' $100 Million Grant, NVIDIA's Workstation for Data Science
April 5, 2019
News from NVIDIA, TechSoft's HOOPS 2019 and Epic Games in this edition of DE's video roundup.
Virtual Reality Strategy Conference 2018: New Ways to Interact with Pixels
October 29, 2018
Analyst firm Greenlight Insights hosts Virtual Reality Strategy Conference in San Francisco
Onshape Developing AR App for Magic Leap Headset
October 10, 2018
Cloud CAD firm Onshape is developing a mixed reality app to let designers edit CAD models in real time on the Magic LEAP AR system.
Worldviz Launches Vizard 6
August 9, 2018
Worldviz launches Vizard 6 before Siggraph 2018, adds supports for glTF and new hardware.
LIVE Online Panel Discussion: Defining Digital Twins
November 3, 2017
Prelude to SIGGRAPH 2017: Your Account Representative Will Meet You in VR
July 27, 2017
Latest News
Quick Snapshot of NAFEMS Americas Regional Conference
Event covered range of topics in the simulation space, including electrification, autonomous vehicles and diversity in simulation organizations.
Nuts and Bolts of NAFEMS' Acquisition of ASSESS
Two leaders of respective simulation organizations sit down to discuss details of NAFEMS acquisition.
TriMech and Solid Solutions Unite
The merger creates a strategic transatlantic technology and solutions partnership for the advanced design, engineering and manufacturing sectors.
3D Systems & EMS-GRILTECH Enter Strategic Partnership
Leveraged combined expertise to introduce DuraForm PAx Natural— a material available for all Selective Laser Sintering platforms.
All posts