Optimize or Generate?
May 17, 2021
Industry insiders explain the difference between the two approaches.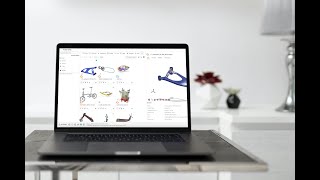 DE Video News Roundup: May 2021
May 13, 2021
Altair Portfolio Goes Online with Altair One, NVIDIA Omniverse Moves from Beta to Commercial, Ansys and Flir partner to develop autonomous driving in the fog, Volume Graphics offer CT scan-based analysis software to find flaws in mechanical parts
Altair One Simplifies Engineering Workflows
May 13, 2021
Portal provides single-pane-of-glass access to HPC and other cloud engineering resources.
Formula One Team Accelerates High-Performance Computing with Altair
May 11, 2021
Altair enables 97 percent use of HPC infrastructure to optimize processing compute-intensive simulations, powering design.
Altair Unveils Thea Render Version 3
April 9, 2021
Product includes new features, workflow enhancements and speed improvements.
Editor's Picks: April 1-7, 2021
April 9, 2021
One of the picks will be chosen as DE's Editor's Pick of the Week.
Sponsored Content
New Frontiers in GPU Acceleration
March 5, 2021
From molecular science and material flow to sound propagation, GPU cores take on new workloads.
Editor's Picks: Feb. 25-Mar. 3, 2021
March 5, 2021
One of the picks will be chosen as DE's Editor's Pick of the Week.
Altair and Gruppo Cimbali Use Digital Twin to Boost Barista Business
March 5, 2021
Digital twin supports convergence of data and simulation for optimized product performance and increased efficiency.
Editor's Pick: A simulation toolkit for complete electronics design 
March 3, 2021
Altair Simulation 2021 enables users to develop complex products that use 5G, fully test electronic board performance and conform to modern manufacturing practices. 
Advanced CFD at the Helm in Competitive Sailing
March 1, 2021
New rules in America's Cup encourage virtual testing.
CFD Keeps Boats Afloat in the America's Cup
March 1, 2021
Despite COVID disruptions, sailing teams discover new ways to simulate the unexpected.
Editor's Picks: Feb. 18-24, 2021
February 26, 2021
One of the picks will be chosen as DE's Editor's Pick of the Week.
Altair Acquires Flow Simulator From GE Aviation
February 25, 2021
Flow Simulator is an integrated flow, heat transfer and combustion design software.
Altair Launches Altair Simulation 2021
February 18, 2021
This release brings a robust end-to-end electronic system design toolset to customers.
Latest News
LIVE from SIGGRAPH: Watch NVIDIA's SIGGRAPH 2022 Announcement Here
NVIDIA makes special announcement at SIGGRAPH 2022
Altair Announces 10th Annual Enlighten Award Winners
Ford, Shiloh Industries, General Motors, Toyota, BASF, Nemak and McMaster University among winners.
3D Printing Metal Market Size Shooting for USD $3.61 Billion by 2030
The global 3D printing metal market was valued at USD$475 million in 2021.
VERICUT Composite Simulation, Programming v9.3 On Market
VERICUT Composites Programming (VCP) and VERICUT Composites Simulation (VCS) both feature enhancements.
All posts