A Reality Check for Simulation
June 21, 2021
Simulation needs test-based validation to be credible.
Material Insights into Additive Manufacturing
June 15, 2021
Use of multiscale material modeling and simulation software is helping expand role of additive manufacturing.
The Coming of Age of AI and Machine Learning in Design
June 1, 2021
Simulation and manufacturing can benefit from AI, but adoption hurdles still exist.
Ansys Collaborates to Offer Online Learning with Cornell
May 20, 2021
Ansys and Cornell University join forces to create a dynamic engineering curriculum, enabling engineering students to master simulation.
Additive Manufacturing 2.0: Building a Resilient, Diverse, Secure Supply Chain
May 17, 2021
A new executive order and cybersecurity concerns shine light on the state of 3D printing.
Optimize or Generate?
May 17, 2021
Industry insiders explain the difference between the two approaches.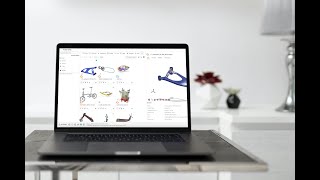 DE Video News Roundup: May 2021
May 13, 2021
Altair Portfolio Goes Online with Altair One, NVIDIA Omniverse Moves from Beta to Commercial, Ansys and Flir partner to develop autonomous driving in the fog, Volume Graphics offer CT scan-based analysis software to find flaws in mechanical parts
Sponsored Content
HPC and Cloud-Enabled Engineering Simulation Infographic
April 26, 2021
HPC and cloud solutions are enabling new levels of simulation productivity.
Rand Simulation Launches Training Program for Ansys Products
April 22, 2021
Rand Simulation developed this program to provide customers using the Ansys simulation toolset along with ongoing help ranging from onboarding to navigating complex projects. 
Van Oord and Ansys Boost Design of Sustainable Wind Turbines
April 20, 2021
Ansys helps reduce model run time from 150 hours to 24 hours, speeding development time by seven times, according to company.
Simulation: New Driving Force Behind Additive Manufacturing
April 15, 2021
Simulation replaces trial-and-error processes and a reliance on tribal knowledge to pave the way for widespread AM adoption for production use cases.
Sponsored Content
High-Performance Computing for Engineering Simulation
April 6, 2021
New research report examines how companies are using HPC-based simulation, and how the COVID-19 pandemic has affected usage and adoption.
ENGIE Lab CRIGEN and Ansys Accelerate Zero Carbon Energy
March 11, 2021
Ansys' digital twin solution is enabling ENGIE Lab CRIGEN to develop a simulation-based digital twin of an industrial asset to help companies cut costs, time and environmental impact.
Advanced CFD at the Helm in Competitive Sailing
March 1, 2021
New rules in America's Cup encourage virtual testing.
GPUs Invade Product Development
March 1, 2021
Parallel processing continues to bring benefits to CAD, simulation and VR work.
Latest News
HP Shares New Platform Professional Services Updates
During RAPID + TCT, HP debuted new products and solutions.
AMGTA Names 2022 Sustainability Award Recipients
Awards recognize member companies for corporate efforts towards sustainable manufacturing.
SME Additive Manufacturing Awards Celebrate Innovation
Three awards honor research, technical innovation, career achievement at RAPID + TCT 2022.
Raymond Weitekamp: In Search of Production-Grade AM Polymer
PolySpectra's founder and CEO Raymond Weitekamp develops resin-based AM material that can go head-to-head with molded engineering plastics.
All posts