Bringing Order to AI Chaos with Blockchain
March 1, 2019
Investigating the use of blockchain to democratize artificial intelligence.
Making Autonomous Vehicles Smarter
March 1, 2019
Combining real-world info and simulated conditions to build a data set.
Machines Learn Differently
March 1, 2019
This commentary gets practical about one set of AI technologies that's just about ready for broader adoption: machine learning (ML).
Deep Learning and Design Engineering
March 1, 2019
Designers incorporate AI and deep learning into new products and in their own design processes.
Altair Highlights Latest Technologies at Hannover Messe 2019
March 1, 2019
Showcase highlights to include a technology demonstrator for predictive maintenance and a digital twin integration platform.
FABU Technology Selects Synopsys' DesignWare IP Portfolio for Intelligence in ADAS
February 22, 2019
Portfolio meets AI processing, memory, connectivity and security requirements while accelerating automotive functional safety assessments.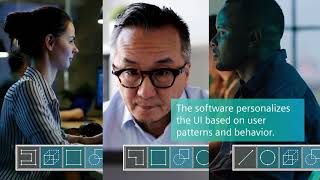 NX Gets an AI-Driven UX Makeover
February 20, 2019
The new NX Adaptive UI harnesses AI and machine learning to dynamically create user interfaces based on user behavior.
Siemens Updates NX Software with Artificial Intelligence and Machine Learning
February 19, 2019
Latest release of NX software enhanced with new capabilities that leverage machine learning and artificial intelligence technology to create user interfaces based on expected tasks to increase user adoption.
ANSYS Acquires Helic, an Electromagnetic Crosstalk Solutions Provider
January 24, 2019
Acquisition will complement ANSYS' portfolio to enable next-generation products in 5G and artificial intelligence
Sponsored Content
It Takes a Beast to Handle Beastly Data Loads
January 24, 2019
Simulation, rendering, artificial intelligence and virtual reality jobs demand way more than your everyday workstation.
Sponsored Content
Advancing Product Design Workflows in Manufacturing
January 21, 2019
Radically Improve Design, Collaboration, and Time to Market with the World's Most Advanced Visual Computing Platform.
Sponsored Content
Advanced Product Design for Industry 4.0
January 21, 2019
Today, next-generation visual computing technologies can help accelerate product development processes, starting with the earliest stages of design.
Hackrod: Build a Car from the Bedroom
January 20, 2019
Custom car company Hackrod applies gamification to vehicle design using online collaboration, VR, and 3D printing.
ABI Research's New Industrial Solution Guides Manufacturers Through Digital Transformation
January 18, 2019
18 technologies help digitize operations to create better products at lower costs.
Siemens Releases Teamcenter 12.1 and 11.6, and Active Workspace 4.1
January 11, 2019
Enhancements target the areas of BOM management, systems engineering and virtual reality with this release.
Latest News
Chaos Group previews Project Lavina, SimScale releases radiation simulator, Onshape recognized by World Economic Forum
In this episode of DE News Roundup, Chaos Group previews Project Lavina for real time ray tracing, SimScale releases radiation...
AMD Radeon Pro Software for Enterprise 19.Q3 Is Optimized for Professional Applications
The latest driver also continues to prove the value of updating professional drivers, with Day Zero certifications to help ensure...
Moldex3D Partners with Wittmann Battenfeld on LSR Injection Molding and Smart Manufacturing
The memorandum of understanding is aimed at bringing together both parties' extensive knowledge and technical expertise to advance the role...
Siemens Debuts More Tire Modeling Capabilities in Real-Time Environments
The Simcenter Tyre team releases MF-Tyre/MF-Swift 2019.1 with more possibilities to test with MSC ADAMS.
All posts