Modeling for the Augmented Reality Age
August 1, 2017
Early virtual and augmented reality developers balance new working paradigms with the mouse-and-keyboard legacy.
Give it Up for PTC's Next-Gen PLM Concept Built on IoT
May 24, 2017
PTC CEO Jim Hepplemann wove together the company's forays into IoT, machine learning and analytics, augmented reality, 3D printing, application lifecycle management (ALM), and industrial connectivity.
Engineering the Wow Factor into Sales with Augmented Reality
May 1, 2017
Positioning virtual products in real spaces via augmented reality gives manufacturers an advantage.
Manufacturers Shape Augmented Reality's Future
April 28, 2017
The augmented reality functional requirements will be made publicly available on the AREA site and future efforts include reviews of current AR hardware and software solutions against the benchmark.
Find Out What Happens When AI, AR, and Generative Design Come Together
December 21, 2016
LiveWorx 2016: Physical Meets Digital
June 28, 2016
At this year's event, PTC outlines its software and strategy for next-generation product development.
PTC Announces Vuforia Studio Enterprise
June 7, 2016
The goal is to help companies integrate augmented reality for multiple applications.
Augment Desktop Incorporates 3D Models into Presentations
April 28, 2016
New Augment Desktop solution allows quick incorporation of 3D models into augmented reality presentations on and offline.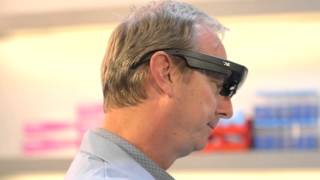 PTC Draws On Augmented Reality to Round Out its IoT Vision
February 1, 2016
Using an augmented reality platform to overlay digital data, companies can elevate interaction with a product to provide service operators with detailed instructions or facilitate design reviews for engineers.
PTC Gets Real With Augmented Reality
November 4, 2015
As an augmented reality technology, Vuforia will help PTC bridge the digital and physical worlds.
IMAGINiT Announces Reality Capture Services
April 14, 2015
The division will provide proof of concept, strategic business planning and project assistance, and customized training.
Wearable, Gesture-Controlled 3D Interface
December 4, 2001
Latest News
LIVE from SIGGRAPH: Watch NVIDIA's SIGGRAPH 2022 Announcement Here
NVIDIA makes special announcement at SIGGRAPH 2022
Altair Announces 10th Annual Enlighten Award Winners
Ford, Shiloh Industries, General Motors, Toyota, BASF, Nemak and McMaster University among winners.
3D Printing Metal Market Size Shooting for USD $3.61 Billion by 2030
The global 3D printing metal market was valued at USD$475 million in 2021.
VERICUT Composite Simulation, Programming v9.3 On Market
VERICUT Composites Programming (VCP) and VERICUT Composites Simulation (VCS) both feature enhancements.
All posts