The Cart Before the Autonomous Car
May 1, 2019
Adopting a new technology causes a ripple effect that can disrupt tried-and-true workflows and even entire industries.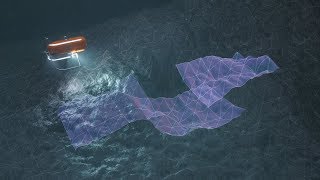 Ocean Explorer Targets Terrestrial and Extraterrestrial Waters
May 1, 2019
WHOI and NASA/JPL are designing an autonomous sea drone capable of exploring the hadal zone, up to almost 7 miles below sea level.
Edge Computing Opportunities and Frustrations
May 1, 2019
Balancing quality and quantity of edge data presents a difficult challenge.
AVL and MSC Software to Partner on Autonomous Vehicle Projects
March 25, 2019
AVL is developing a scenario-based open verification and validation toolchain to generate operational scenarios, create the relevant test cases, and execute testing and homologation of automated driving functions.
Making Autonomous Vehicles Smarter
March 1, 2019
Combining real-world info and simulated conditions to build a data set.
Local Co-Creation for Transportation
March 1, 2019
LM industries Group expands on its grand vision for local, collaborative manufacturing.
VIRES VTD 2.2 Expands Autonomous Driving Simulation
February 8, 2019
Revamped visualization and advanced sensors, new car models, new open API, user experience enhancements can be discovered in latest release.
Game on for 5G
February 1, 2019
Dassault Systèmes and Cognata Announce Strategic Partnership
January 10, 2019
Goal of partnership is to accelerate the launch of safer autonomous vehicles.
Mcity Adds Augmented Reality to Driverless Car Testing Roadmap
December 27, 2018
Researchers make the case for a hybrid autonomous vehicle test process that combines simulated vehicles and traffic scenarios with real-world test drives.
Siemens Acquires COMSA
December 4, 2018
COMSA to join Mentor business to complement Siemens' Capital portfolio with software solutions backed by technical expertise. Acquisition said to strengthen Siemens' expertise in key electrical and harness standards being developed by leading European OEMs and suppliers.
Self-Driving on Virtual Roads
December 1, 2018
Programs learn to navigate in digital highways.
Keep Moving Forward
December 1, 2018
Each year, we survey our audience to get their take on how technological innovations are actually affecting the people on the front lines of designing and engineering new products. This year, we decided to also feature some of the design...
MSC's Adams 2018.1 Release Boosts Real-Time Autonomous Vehicle Virtual Testing Accuracy
November 19, 2018
MSC Software has expanded its virtual prototyping capabilities with enhancements to Adams.
AutoDrive Competition Puts Student Engineers in the AV Driver's Seat
October 22, 2018
AutoDrive, sponsored by General Motors and SAE International, is tasking eight university-level student teams with developing and demonstrating a fully autonomous passenger vehicle by the end of year three.
Latest News
Leading NVIDIA Channel Partner, PNY Technologies, Supports Data Science for Product Development
Detailing PNY Technologies' involvement with the NVIDIA-Powered Data Science Workstation specification.
Sponsored Content
Editor's Pick: Tapping Into Data Science for Product Development
PNY Technologies delivers NVIDIA's Data Science Workstation specification.
XR Transforming Design, Visualization
Ford, BASF discuss extended reality in VR Intelligence webinar.
ANSYS and Autodesk Light Up Automotive Design
Software providers provide deep integration between the VRED 3D visualization and ANSYS optical simulation solution to streamline vehicle design and...
All posts