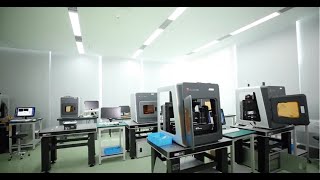 Boston Micro Fabrication
June 24, 2021
Boston Micro Fabrication is the world leader in micro-precision 3D printers utilizing Projection Micro Stereolithography (PµSL) technology. Many leading companies worldwide are adopting PµSL to 3D print true microstructures with ultra-high printing resolution (2µm~50µm) and printing tolerance (+...
Sponsored Content
Editor's Pick: Micron-resolution production 3D printing
September 30, 2020
Boston Micro Fabrication microArch S240 3D printer increases build volume, speed and material capacity compared to the company's previous model.
FREE WEBINAR: From Prototypes to Mass Production - Micro Manufacturing Reinvented
September 17, 2020
A method called Projection Micro Stereolithography (PµSL) is emerging as a new technology to produce parts at a length scale suited to (micro) prototypes, patterns, tools, jigs/fixtures, and end-use parts.
Editor's Picks: Feb. 6-12, 2020
February 13, 2020
One of the picks will be chosen as DE's Editor's Pick of the Week.
BMF Unveils microArch, an Accurate, Precise High-Resolution 3D Printer 
February 11, 2020
microArch empowers manufacturers to print high-value parts for prototyping or mass production at scale.
BMF Teams with Onshape for Manufacturing
September 24, 2018
Global company in micro/nanoscale 3D printing uses cloud CAD for real-time collaboration with its industrial customers worldwide.
Latest News
Ford and Ansys Accelerate Development of Next-Generation Predictive Headlight Technology
Ford engineers use optical simulation solutions from Ansys for development of predictive smart headlights.
Aras Announces Roque Martin as New Chief Executive Officer
Peter Schroer transitions to Aras Board of Directors.
Desktop Metal Qualifies 420 Stainless Steel
Desktop Metal single-pass jetting technology enables mass production of end-use parts in 420 stainless steel for applications across medical, defense, aerospace,...
Materialise and Proponent Enhance Aerospace Aftermarket Supply Chains
Materialise and Proponent are partnering with aerospace OEMs and suppliers to offer airlines and maintenance, repair and overhauls a one-stop-shop ...
All posts