Top Story
CEAD Sets Sail With Large-scale Continuous Fiber Printing
December 26, 2018
CEAD Group's CFAM Prime 3D printer brings continuous fiber printing for composite applications to an industrial scale.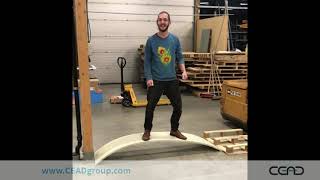 CEAD Sets Sail With Large-scale Continuous Fiber Printing
December 26, 2018
CEAD Group's CFAM Prime 3D printer brings continuous fiber printing for composite applications to an industrial scale.
By the Numbers: Lightweighting
January 2, 2018
Facts and figures on lightweighting in engineering with new materials and the use of more composites.
AdditiveCARBON Features Hybridization of 3D Printing with Carbon Fibers
August 18, 2017
AdditiveCARBON enables hybrid structures by means of a combined and fully automated manufacturing approach in which the carbon fiber reinforcement directly follows the load paths and the additive base structure serves as support for compressive loading.
Hexagon AB Acquires Apodius GmbH for Composite Measurement Expertise
August 31, 2016
Acquisition augments Hexagon Manufacturing Intelligence's expertise in the measurement of composite materials.
Tour de France Champion and ORNL to Offer Lower Cost Carbon Fiber
August 30, 2016
New manufacturing process yields high volume, low cost carbon fiber for transportation, renewable energy and infrastructure.
IACMI Advances Engineering of Composites
October 1, 2015
The Institute for Advanced Composites Manufacturing Innovation is working to expand accessibility of advanced composite materials in labs and factories nationwide.
Ford Accelerates Carbon Fiber Research
January 13, 2015
The company is partnering with DowAksa to develop high-volume carbon fiber part manufacturing methods.
Lightweight Material Champions
October 1, 2014
While no one wants a product to be heavier than necessary, lightweighting has become an obsession in the automotive and aerospace industries.
Latest News
WIN Enterprises Announces the MB-65040 Mini-ITX with Intel Scalable Skylake Processor
MB-65040 supports the Intel Skylake-S CPU and Intel H110 chipset.
Auburn University Deploys $1.5 Million Digital X-Ray CT System for Additive Manufacturing Purposes
Customized system enables layer-by-layer quality assessment in real time.
CONTACT Software Issues CONTACT Elements Release with Software Modules
Users can benefit from comprehensive functional enhancements and the integration of agile processes.
Mobile Analysis 3D and 2D CAD Viewer "to Go" Now on Market
The CoreTechnologie 3D_Analyzer Viewer is now available through a mobile license-lending feature.
All posts