TYAN Refreshes Server Platforms with New 2nd-Gen Intel Xeon Scalable Processors
February 24, 2020
Powered by the extended product line of 2nd-gen Intel Xeon Scalable processors, TYAN's Thunder HX product line takes advantage of built-in Intel Deep Learning Boost to deliver high-performance inference and vision for AI workloads.
Designairspace Launches CAD in the Cloud Plan
February 19, 2020
P-4000 Bare Metal will be available to subscribers in North America and Europe via three data centers, giving them maximum performance and minimum latency, the company says.
Pushing the Design Envelope On the Go
February 1, 2020
With a new generation of visual designers, working anywhere in the world, CAD in the Cloud is emerging as a solution for mobile workers to build the future.
Editor's Pick: Cloud-based 3D CAD viewer for real-time collaboration 
January 22, 2020
ZWSOFT CADbro 2020 offers online, shared viewing in real-time with the ability of team members to discuss and manage the data.
OnScale Enhances CAE Licensing with a Pay-as-you-Simulate SaaS
January 16, 2020
OnScale provides flexibility to engineers by delivering scalable cloud simulation capability to any engineer, anywhere, anytime on any device.
Sponsored Content
Cloud Engineering Simulation: A Game Changer for Design Engineers
December 11, 2019
By combining powerful multiphysics solver technology with the limitless compute power of cloud supercomputers, engineers can create true Digital Prototypes.
Graebert to CAD Vendors: We Can Take You to the Cloud
December 5, 2019
Graebert conference presents the company's expanded vision for the cloud-based CAD technology.
Stratasys Introduces Work Order Management Software
November 25, 2019
New GrabCAD Shop simplifies 3D printing workflow.
ParaMatters Launches CogniCAD 3.0 at Formnext 2019
November 14, 2019
ParaMatters expands Its generative design and manufacturing cloud solutions with new release.
Altium Unveils Cloud-based Application for eCAD Component Management
November 5, 2019
New software made for creation, use and sharing of component data in printed circuit board design.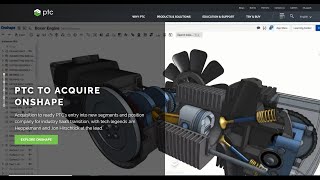 PTC Buys Onshape, xRS Brings Out Use of AR-VR in Training, More
October 31, 2019
In this episode of DE Video News Roundup, CAD and PLM vendor PTC buys cloud CAD Onshape for $470 million, xRS Conference brings out ARVR use in training, CAASE conference now open for paper proposals, DE seeks holiday-themed simulation projects to...
Sponsored Content
Modular PLM: A Successful Strategy for SMBs
October 29, 2019
The best way for SMBs to approach PLM is with a modular, sprint-based implementation, rather than rolling out an entire PLM platform at once.
Companies, Cities Adopt Use of NVIDIA EGX Edge Supercomputing Platform
October 23, 2019
This platform delivers artificial intelligence to factories, wireless networks, stores and more.
Partner Content
The Connected Workstation: More Than the Sum of its Parts
October 10, 2019
SaaS-style simulation apps and on-demand HPC change the role of the classic workstation.
CAE in the Cloud
October 10, 2019
UberCloud presents its 2019 compendium of CAE case studies.
Latest News
IronCAD 2021 Makes Its Debut
Updated features include user interface improvements, sheet metal design enhancements, 2D technical drawing advances and more.
Product Design: What is Next?
Onshape founder John McEleney Takes a look at the future of design software.
Design Software Training Evolves in the Pandemic
Professional training providers IMAGINiT and SolidProfessor discuss the transformation of CAD classes during the Coronarivus outbreak.
Tech Trends Not Expected to Happen in 2021
Environmentally friendly 5G, explainable AI, mainstream virtual reality, and Wi-Fi 6E are just a few trends not expected to arrive...
All posts