Predicting Structural Instability Due to Plastic Hinge Collapse Mechanism
July 19, 2019
Designing structures based on conditions where loading results in full plastic yielding that creates structural instability where the structure collapses due to plastic hinge effects is increasingly used and accepted by various codes of practice.
Anaglyph Introduces New Version 4.9 of Laminate Tools Software Application
July 8, 2019
Simufact Forming 16 Simulation Software Launches
June 20, 2019
The upcoming release covers highlights and improvements to create simulation models, set up complex manufacturing processes and more.
Rand Simulation Launches Turbomachinery Offering
June 20, 2019
The company has enhanced its collaborative consulting and overall business practice to include expertise focused on the turbomachinery industry.
Altair SIMSOLID Walkthrough
June 1, 2019
For this overview, Tony Abbey says he was was able to explore design configurations very rapidly—and this prompted further exploration into alternative configurations such as an integral fitting.
Simulation Transition: Materials
June 1, 2019
It is fundamentally essential to understand how your simulation software incorporates the mechanical properties of materials.
FEATool Multiphysics MATLAB FEA Toolbox 1.10 Available
May 14, 2019
New update features an updated and fully integrated graphical user interface with built-in and interactive step-by-step multiphysics simulation examples.
DLR Advances Crack Prediction in Ceramic Matrix Composites Using MultiMech
May 14, 2019
Research designed to reduce development time of novel CMC materials.
PROSTEP Sponsors the Formula Student DART Racing Team
May 3, 2019
The team is developing an electric racing car for the international Formula Student university design competition.
Simulation Transition: Meshing Nuts and Bolts
May 1, 2019
It's essential to understand the fundamentals of how to adjust a mesh to obtain accurate and reliable results.
Get Cracking with ANSYS Workbench 19.2
May 1, 2019
Walk through a fracture analysis using ANSYS Separating Morphing Adaptive Remeshing Technology.
Sponsored Content
Editor's Pick: Faster Composites Simulation Improves Predicting Carbon Fiber Performance
May 1, 2019
MultiMechanics MultiMech 19.0 composite simulation software specializes in finite element analysis of carbon fiber and other composites.
COMSOL Debuts COMSOL Client for Android
April 26, 2019
New release enables engineers and students to run simulation applications from an Android device.
Aras Expands Partnership with MSC Software Corporation
April 23, 2019
Collaboration focuses on enhanced simulation process and data management.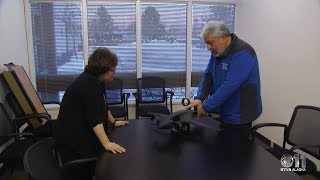 Autonomous Cargo Drone Does Heavy Lifting
March 27, 2019
Sabrewing has designed two hybrid-electric aircraft that can autonomously deliver hundreds of pounds of cargo to remote locations.
Latest News
Sunway Communication Partners with BMF
Partnership to focus on development of next-gen antenna.
NUBURU and Essentium Partner
Collaboration to enable the companies to launch blue laser-based wire feed metal 3D printers.
BMW Group and Ansys Co-Developing Simulation Software
The two companies join forces to implement simulation capabilities leading to advances in automated/autonomous vehicle technology.
Hopium Uses Dassault Systèmes' 3DEXPERIENCE Platform
Plan is for Hopium to design and develop Its hydrogen-powered high-end vehicle, companies say.
All posts