Top Story
3D Printing Increasingly Prescribed for Medical Apps
March 4, 2019
HP's Director of 3D Printing, Lee Dockstader outlines 3D printing opportunity in healthcare.
3D Printing Increasingly Prescribed for Medical Apps
March 4, 2019
HP's Director of 3D Printing, Lee Dockstader outlines 3D printing opportunity in healthcare.
To 3D Print, or Not to 3D Print?
January 1, 2019
Consider the application, volume requirements and operational efficiencies.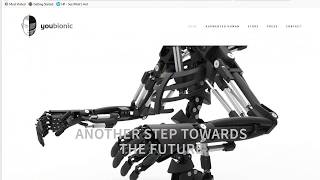 DE News Roundup: December 3, 2018
December 5, 2018
PTC acquires generative design software maker Frustum, TechSoft adds AR-VR support to HOOPS SDK, HP partners with Autodesk for 3D printing workflow, hybrid Centaur-like robot from Bostondynamics and Youbionic
Is Large-Scale 3D Printing Sustainable?
December 1, 2018
Additive manufacturing transitions from prototyping to a means of mass production, raising the stakes for sustainability.
HP Boosts 3D Printing Mass Production
November 26, 2018
HP announces new customers RecTech 3D and GE Transportation; new applications by BMW, Volkswagen, and others; first HP Jet Fusion 3D 300 / 500 Series customers; collaborates with Autodesk on design-for-3D to lead in digital manufacturing.
A Great Little Workstation: HP Z2 Small Form Factor G4
November 1, 2018
HP introduces the world's most powerful small form factor workstation.
3 Ways to Close the Digital Engineering Skills Gap
November 1, 2018
How can manufacturers accelerate digital transformation efforts to succeed in the Fourth Industrial Revolution? Here are three ways to close the digital skills gap.
NTU and HP Inc. to Advance Digital Manufacturing Worldwide with First HP-NTU Corporate Innovation Lab in Asia
October 29, 2018
As Singapore's newest corporate research laboratory and HP's largest university research collaboration worldwide, the HP-NTU Corporate Lab will drive innovation, technology, skills and economic development critical for the advancement of the Fourth Industrial Revolution.
Metals 3D Printing: The Next Chapter in the Digital Industrial Revolution
October 8, 2018
A look at the importance of metals 3D printing on Manufacturing Day 2018.
HP Advances Metal 3D Printing for Mass Production
September 17, 2018
The HP Metal Jet—a platform that the company says addresses longstanding limitations of metal 3D printing and positions the technology as a cost-effective alternative for low-cost, mass production—is revealed at IMTS.
HP Multi Jet Fusion Anchors China Digital Manufacturing Center
August 9, 2018
The Guangdong (Dali) 3D Printing Collaborative Innovation Platform will employ 10 HP Multi Jet Fusion 3D printing systems.
HP Launches Z2 Mini G4 Workstation with 6 Core Intel Xeon
July 25, 2018
Divide and Conquer: Review of the HP ZBook x2 with DreamColor
July 1, 2018
HP delivers a powerful detachable PC that is powerful enough for engineering.
Sponsored Content
Manufacturing Aids: Setting the standard for production lines of the future
June 21, 2018
Join this webinar to learn about HP Jet Fusion 3D Printing's process, including some of the advantages of using this disruptive technology for manufacturing aids and how it can help improve production line efficiency. You'll hear about actual use...
HP and Jabil Aim to Transform Manufacturing with 3D Printing Solutions
May 1, 2018
HP invented the commercial laser printer in 1980 and followed with the first thermal inkjet printer four years later. These breakthroughs transformed the printing industry and established HP as a major game-changer.