Sustaining the Future of 3D Printing
February 26, 2021
Experts share their sustainability approaches for manufacturing the way to a more planet-friendly future.
3D Printing in a Post-COVID-19 World
December 31, 2020
Mass customization and flexibility ensure AM's role in the post-COVID world.
AMFG Collaborates With HP on Additive Manufacturing
December 8, 2020
Integration of HP 3D API with AMFG Additive MES software enables machine control and monitoring.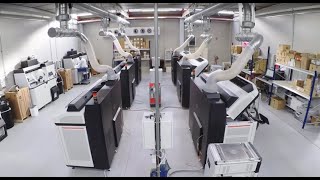 Weerg Doubles Its 3D Printing Department
November 19, 2020
Company reports its largest EMEA installation of HP Jet Fusion 5210 in Gardigiano with the new HP Automatic Unpacking Station.
Editor's Picks: Nov. 5-11, 2020
November 13, 2020
One of the picks will be chosen as DE's Editor's Pick of the Week.
Editor's Pick: Software platform made for fast additive manufacturing build prep
November 11, 2020
HP Universal Build Manager Powered by Dyndrite is an OEM- and process-agnostic tool and is said to be supported by many vendors.
Editor's Picks: Oct. 29-Nov. 4, 2020
November 6, 2020
One of the picks will be chosen as DE's Editor's Pick of the Week.
HP Improves 3D Print Management, Automation
November 5, 2020
New solutions increase control and quality of additive manufacturing processes.
GoProto Introduces New 3D Printing Parts Service
October 29, 2020
Service features elastomeric TPA (thermoplastic polyamide), enabling the production of rubber-like parts that was otherwise unachievable by traditional manufacturing methods.
Global HP Study Finds Digital Manufacturing Helps Drive Economic Growth
October 15, 2020
3D printing, innovation and supply chain resiliency more important than ever, say manufacturing decision makers.
HP Launches HPBCU Challenge, 3D Printing Pilot Program
September 8, 2020
HP is expanding its partnership with HBCUs via a new pilot learning program focused on 3D printing at North Carolina A&T State University.
HP Enhances Remote Collaboration With Z by HP
September 2, 2020
Secure and manageable workstations designed to deliver new levels of performance.
HP Selects Dyndrite Kernel to Power Digital Manufacturing Solutions
August 11, 2020
Companies collaborate on delivering additive manufacturing and bringing new performance and functionality to digital manufacturing industry.
When Engineering Exits the Building
July 31, 2020
Organizations must find the right technology to support engineers' data-intense workloads as work-from-home numbers increase.
FREE WEBINAR: Outsourcing vs. Inhouse 3D Printing - What Works for You?
July 28, 2020
In this webinar, you'll learn about the pros and cons of investing in 3D printing hardware vs. relying on service bureaus.
Latest News
Quick Snapshot of NAFEMS Americas Regional Conference
Event covered range of topics in the simulation space, including electrification, autonomous vehicles and diversity in simulation organizations.
Nuts and Bolts of NAFEMS' Acquisition of ASSESS
Two leaders of respective simulation organizations sit down to discuss details of NAFEMS acquisition.
TriMech and Solid Solutions Unite
The merger creates a strategic transatlantic technology and solutions partnership for the advanced design, engineering and manufacturing sectors.
3D Systems & EMS-GRILTECH Enter Strategic Partnership
Leveraged combined expertise to introduce DuraForm PAx Natural— a material available for all Selective Laser Sintering platforms.
All posts