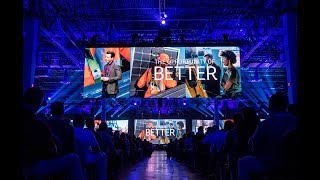 Autodesk discusses partnership with ANSYS at AU 2019, offers free generative design tools, more
December 2, 2019
Autodesk and ANSYS affirm partnership, Autodesk offers free generative design tools, React Robotics design in Fusion with Lenovo workstations, more
Is AR/VR Ready to Go Beyond Visualization?
December 1, 2019
Storytelling is the dominant use of mixed reality devices at present, but may change in the future.
Mobile Workstations Continue to Rise
December 1, 2019
Demand is driven by the desire to have as much computing power as possible at hand 24/7.
Budget Workstations for Engineers
September 1, 2019
Tasks, not price, define today's entry-level engineering workstation offerings.
The Rise of Data Science Workstations
August 1, 2019
NVIDIA's new hardware is making it easier for organizations to process data right on the desktop, as engineers are being drafted into data science roles.
Are You Ready for Extended Reality (XR)?
August 1, 2019
Identifying the right use case is key to getting the most out of enterprise augmented reality.
Review: Lenovo ThinkPad P72 Displays An Excellent Update
August 1, 2019
Lenovo's 17-inch mobile workstation delivers great engineering performance at a more affordable price.
Sponsored Content
Making the Case for the Right Workstation
July 30, 2019
Whether it's an engineer designing bridge structures on a major infrastructure project or a developer coding the next big video game release, the workstation is the epicenter of the workday and a barometer for employee productivity.
Sponsored Content
Choose the Right Mobile Workstation for the Job
July 25, 2019
How mobile workstations are tailored to the workloads of the professionals who need them most.
Sponsored Content
Editor's Pick: Tensor Cores and Real-time Ray Tracing Go Mobile
June 26, 2019
Lenovo introduces high-end versatility in a 15-in. mobile workstation. 
Sponsored Content
Eccotype Turns Typing Into Professional-grade Animation
June 24, 2019
Creativity shouldn't just be in the hands of the few. So say the innovators of Eccotype, a new online platform that gives novice visual effects artists the ability to create movie-quality CGI without expensive software and years of training.
Sponsored Content
Design That Matters Helping Treat Easily Curable Diseases
June 20, 2019
Serving underprivileged communities from Haiti to Mali to Vietnam, nonprofit Design that Matters (DtM) is committed to helping treat easily curable diseases like jaundice, hypothermia and pneumonia using simply yet ingeniously designed medical devices.
Sponsored Content
3D Printing Helps Provide Prosthetic Devices to Children in Need
June 20, 2019
Pick up a ball. Paint a picture. Wave goodbye. A child can't do any of these without a hand. The Helping Hand Project (The HHP) provides 3D printed prosthetic hands free of charge to children in need so they have...
Sponsored Content
Build Change Utilizes 3D Modeling Technology to Build Safe Housing
June 20, 2019
Rebuilding after a disastrous earthquake or typhoon, especially in an emerging nation should not only repair what is broken but also lay the foundation for safer communities. That's the philosophy of Build Change, a global nonprofit social enterprise that...
Sponsored Content
AI Workstations for Data Science
June 17, 2019
AI Workstations maximize productivity, reduce time to insight, and lower the cost of your data science projects in one robust, readily deployable solution.
Latest News
Editor's Pick: Upgrade to Mixed Reality 3D CAD Viewing Suite
Theorem Solutions Theorem-XR Suite update offers support for HoloLens 2 and the Microsoft Azure Remote Rendering (ARR) engine.
Massivit 5000 Large-Scale 3D Printer Boosts Production Speeds 30X
At AMUG 2021, Massivit has launched a new industrial-grade large-format printer.
CoreTechnologie Unveils Universal 3D Printing Software
Latest version of 4D_Additive additive manufacturing software has new features to meet demands of small-batch production of 3D printed...
Nexa3D Expands Partnership with BASF Forward AM
Powered by BASF Forward AM, Nexa3D's three new photopolymers support a variety of applications with fast turnaround times.
All posts