CAASE20: Working in the Post-COVID World
May 22, 2020
As offices shutter, new doors open for remote collaboration, digital twins and 3D printing, say CAASE20 keynote speakers.
CAASE20: Simulation in the Age of COVID-19
May 12, 2020
Peter Langsten, Gartner's Marc Halpern to keynote CAASE20 Virtual Conference.
CAASE20 Virtual Conference to Feature More Than 200 Presentations
May 5, 2020
Three-day online conference will be free to NAFEMS members.
Altair Accelerates Simulation-Driven Design in Latest Release of Altair Inspire
April 21, 2020
Release includes integration of Altair SimSolid for fast, accurate structural analysis of complex assemblies.
NAFEMS Offers Online Events in Upcoming Days
April 16, 2020
Additive manufacturing, realism in multibody dynamics and free body diagrams are some of the featured topics for sessions.
CAASE20 Conference Goes Virtual
March 30, 2020
Because of concerns around COVID-19, the CAASE20 Conference, originally to be held in Indianapolis, will be presented as a virtual conference June 16-18.
IndyCar's Bill Pappas to Headline CAASE20
March 20, 2020
Keynote will cover the use of simulation in IndyCar design.
'Crossing the Chasm' Author to Keynote CAASE20
February 5, 2020
Geoffrey Moore will discuss disruptive innovation at the virtual event, June 16-18.
VMAP International Conference on CAE Interoperability 2020 Coming Up
January 21, 2020
The conference will take place in Bamberg, Germany, May 13-14, 2020, immediately after the NAFEMS DACH Regional Conference at the same venue.
CAASE20 Will Feature Simulation Training, IndyCar Night
December 12, 2019
NAFEMS Americas, Digital Engineering present CAASE20 Conference in June
NAFEMS Americas Student Award
December 6, 2019
Award recognizes outstanding student work in engineering modeling, analysis and simulation.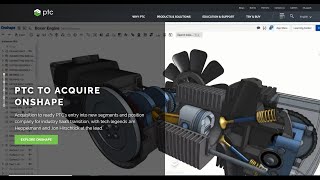 PTC Buys Onshape, xRS Brings Out Use of AR-VR in Training, More
October 31, 2019
In this episode of DE Video News Roundup, CAD and PLM vendor PTC buys cloud CAD Onshape for $470 million, xRS Conference brings out ARVR use in training, CAASE conference now open for paper proposals, DE seeks holiday-themed simulation projects to...
Material Concerns in a Complex Design World
October 1, 2019
The use of more composite materials, the emergence of generative design approaches, new simulation tools and the adoption of various additive manufacturing (AM) solutions are playing a role in increasing this complexity.
3D Printing Isn't the Death of Die Casting
September 23, 2019
CAASE19 Virtual Conference sessions explores how additive manufacturing can augment existing die casting processes.
MBSE: The Unseen Navigator to Mars
September 23, 2019
CAASE19 Virtual Conference keynote demonstrates how model-based systems engineering is guiding the next Mars Rover project.