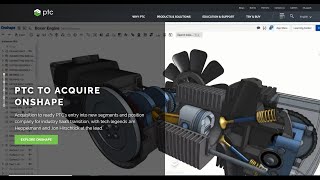 PTC Buys Onshape, xRS Brings Out Use of AR-VR in Training, More
October 31, 2019
In this episode of DE Video News Roundup, CAD and PLM vendor PTC buys cloud CAD Onshape for $470 million, xRS Conference brings out ARVR use in training, CAASE conference now open for paper proposals, DE seeks holiday-themed simulation projects to...
Material Concerns in a Complex Design World
October 1, 2019
The use of more composite materials, the emergence of generative design approaches, new simulation tools and the adoption of various additive manufacturing (AM) solutions are playing a role in increasing this complexity.
3D Printing Isn't the Death of Die Casting
September 23, 2019
CAASE19 Virtual Conference sessions explores how additive manufacturing can augment existing die casting processes.
MBSE: The Unseen Navigator to Mars
September 23, 2019
CAASE19 Virtual Conference keynote demonstrates how model-based systems engineering is guiding the next Mars Rover project.
NAFEMS to Host One-Day Automotive Simulation Conference in Michigan
September 16, 2019
An event agenda and concept put together by several figures in the automotive industry will provide the opportunity to learn about the latest technologies and practices.
Digital Engineering and NAFEMS Americas Launch CAASE19 Virtual Conference
September 3, 2019
The virtual conference will explore the use of simulation and analysis across the design/development process.
The Path to Simulation
September 1, 2019
Industry veterans weigh in on how to make engineering simulation more accessible to a larger user base.
CONTACT Software Presents at the NAFEMS World Congress 2019 
June 14, 2019
The topic will address PLM- and microservice-based integration approach of model-based systems engineering.
NAFEMS World Congress 2019 Preview
February 20, 2019
The international association for the engineering modeling, analysis and simulation community, hosts the NAFEMS World Congress June 17-20 in Quebec, Canada.
NAFEMS Names Speakers for NAFEMS World Congress 2019
February 12, 2019
The international association for the engineering analysis community launches extensive roster of keynotes for its biennial world congress in Quebec.
Weaving Materials into the Design Workflow
January 1, 2019
Advances in materials science offer promises of part quality improvement at the microstructure level.
The Spectrum of FEA Analysis
January 1, 2019
This month's column explores the common swath of tools available inside the simulation toolbox.
Meshless FEA Opportunities
January 1, 2019
Is there a future for meshless methods in mainstream analysis?
NAFEMS
October 12, 2018
NAFEMS is the International Association for the Engineering Modelling, Analysis and Simulation Community. We focus on the practical application of numerical engineering simulation techniques such as the Finite Element Method for Structural Analysis, Computational Fluid Dynamics, and Multibody Simulation.
A Beginner's Guide to Simulation, Part 1
October 1, 2018
Primed with the resources and fundamentals of how to get started, now it's time to sign up for a training course and dive into simulation.
Latest News
Sponsored Content
Environmental Design for Building the Future
Simulating and building the future with SimScale and BricsCAD.
RapidDirect Announces New Instant Quote Platform
This technology offers instant quotes for several prototyping services.
Autodesk Confirms Proposal to Buy Altium Limited
The proposed combination would advance ability to converge design and make via unified design, engineering and manufacturing cloud platform, company...
UMD, UMBC, ARL Ink Agreement to Boost AI, Autonomy in Complex Environments
The five-year agreement will accelerate the development and deployment of safe, effective, and resilient capabilities and technologies, from wearable devices...
All posts