AMD Set to Buy Xilinx, Challenging NVIDIA in HPC
October 27, 2020
GPU maker AMD to buy programmable chipmaker, seeking to boost HPC offerings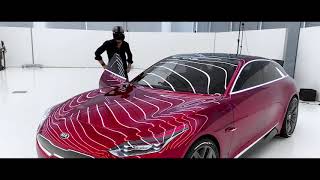 SOLIDWORKS 2021 highlights, KIA uses Varjo ARVR and Autodesk VRED, NVIDIA announces Omniverse
October 23, 2020
SOLIDWORKS 2021 highlights, KIA uses Varjo ARVR and Autodesk VRED, NVIDIA announces Omniverse
CINECA to Build Fast AI Supercomputer with NVIDIA and Atos
October 16, 2020
New "Leonardo" system to deliver 10 exaflops of AI performance to power Italy's HPC and AI research.
Sponsored Content
White Paper: Engineering From Home
October 15, 2020
The right mobile engineering workstation can help keep designers productive no matter where they are working.
NVIDIA Puts Forth Ready-Made NVIDIA DGX SuperPODs
October 12, 2020
Offered by a global network of certified partners, this advanced AI system is now available in 20-node building block increments.
Sponsored Content
SOLIDWORKS 2021—Cloud-Centric, GPU-Friendly
October 10, 2020
New version brings the desktop software closer to parent company's 3DEXPERIENCE offerings
Sponsored Content
Built for Speed
October 10, 2020
Custom bike builder sees gains in simulation and rendering with the new NVIDIA RTX A6000 GPU.
Editor's Picks: Oct. 1-7, 2020
October 8, 2020
One of the picks will be chosen as DE's Editor's Pick of the Week.
NVIDIA Unveils New Ampere Architecture GPUs 
October 7, 2020
New NVIDIA RTX A6000 and NVIDIA A40 GPUs accelerate rendering, AI, VR/AR and compute workloads for millions of artists, designers and engineers.
GTC: NVIDIA Omniverse Enables Real-Time, Virtual Collaboration
October 7, 2020
New Omniverse platform enters open beta; NVIDIA announces DPU products.
NVIDIA Unveils Jetson Nano 2GB AI and Robotics Starter Kit
October 6, 2020
New developer kit with free online training and certification makes AI easily accessible to all.
Can Generative Design Go Mainstream?
September 18, 2020
Software vendors have made big investments, but there are barriers to practical adoption.
Work-From-Home Workstations
September 18, 2020
Configuring the right workstation when engineering leaves the building.
Riding the Virtual Road
September 15, 2020
Autonomous vehicle simulation shortens development cycles, reduces costs and makes cars and trucks safer.
Workstation Monitors Boast Curves and Connectivity
September 15, 2020
Engineers put more consideration into monitor features as work-from-home setups emerge.
Latest News
OPEN MIND Debuts hyperMILL 2021.1 CAD/CAM Software Suite 
Innovations and enhancements optimize machining tools and molds and more.
Nexa3D and Keystone Industries Team Up for 3D Printing Solutions
Under this agreement, both companies will combine their extensive dental, photopolymer and 3D printing capabilities to deliver 3D printing solutions...
Purdue University Turbulence Model May Aid in Design of Aircraft
Engineers enable simulation of complete 'dance' of colliding vortices at reduced computational time.
Sponsored Content
GPU-Accelerated Visualization Makes its Mark
More software solutions are taking advantage of real-time ray tracing and enhanced visualization made possible via the GPU.
All posts