COVID-19 Spike Puts Remote Collaboration to the Test
April 6, 2020
Design tool vendors ease licensing restrictions and aim for scalability to meet surge in demand from work-at-home engineers.
PTC Invites You to Use Vuforia Chalk for Free Amidst COVID-19 Crisis
March 27, 2020
PTC's remote assistance product, Vuforia Chalk, leverages augmented reality (AR) to enable offsite and on-site employees to collaborate.
Sponsored Content
Getting Comfortable with AI-Assisted Design
March 9, 2020
Generative design technology is gaining acceptance as software vendors leverage GPU acceleration.
Making Digital Thread Work for You
March 1, 2020
Digital thread initiatives may require a mix of on-premise and cloud-based compute resources.
Sponsored Content
When Generative Design and Additive Manufacturing Come Together
February 7, 2020
Mergers and acquisitions forge new path for the duo
Pushing the Design Envelope On the Go
February 1, 2020
With a new generation of visual designers, working anywhere in the world, CAD in the Cloud is emerging as a solution for mobile workers to build the future.
Mixed Experiences Ring in New Era of Design Collaboration
February 1, 2020
AR/VR brings enhanced visual context to design collaboration, reducing time-to-delivery cycles and resulting in better products.
AI Rewrites the Possibilities of Digital Twin
January 31, 2020
Developers of the virtual design tool see AI as providing the catalyst for a major shift in product development.
PTC Partnering with Magic Leap
December 29, 2019
Goal is to further expand augmented reality in the enterprise.
Mindtree Launches an Immersive Technologies Experience Center in Collaboration with PTC
December 27, 2019
Immersive Aurora facility provides opportunities to enhance customer experience across augmented, virtual and mixed reality touchpoints.
Graebert to CAD Vendors: We Can Take You to the Cloud
December 5, 2019
Graebert conference presents the company's expanded vision for the cloud-based CAD technology.
Is AR/VR Ready to Go Beyond Visualization?
December 1, 2019
Storytelling is the dominant use of mixed reality devices at present, but may change in the future.
New Licensing Options Satiate Users' Appetite for Design Tool Flexibility
December 1, 2019
As the cloud gains traction and the digital business accelerates, CAD and CAE users are hungry for more flexible deployment and payment options.
AI-Accelerated Rendering
November 1, 2019
Artificial intelligence ushers in rendering democratization.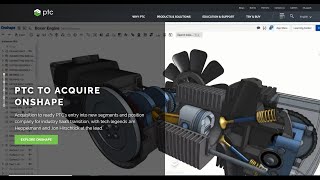 PTC Buys Onshape, xRS Brings Out Use of AR-VR in Training, More
October 31, 2019
In this episode of DE Video News Roundup, CAD and PLM vendor PTC buys cloud CAD Onshape for $470 million, xRS Conference brings out ARVR use in training, CAASE conference now open for paper proposals, DE seeks holiday-themed simulation projects to...
Latest News
MathWorks Updates Simulink Real-Time
Software enhancements involve rapid control prototyping and hardware-in-the-loop testing capabilities with QNX Neutrino Realtime Operating System (RTOS).
Radica Software Partners with Onshape on Electrical CAD
Electra Cloud now available on Onshape's app store to offer end-to-end solutions including 3D, electrical, pneumatic hydraulics and soon...
Department of Defense Bestows Multi-Million Dollar Award on Desktop Metal
The award will fund the development of a cost-effective additive manufacturing process to manufacture Cobalt-free hardmetals into complex, net or...
AM's Role in Future-Proofing the Supply Chain
A virtual panel wades in on how AM can help manufacturers add business resiliency to their supply chains while delivering...
All posts