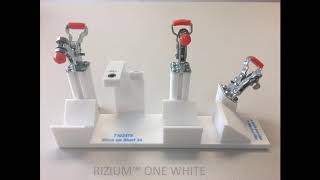 RIZE Brings Smart Spaces to the Desktop
March 31, 2019
Smart Spaces Solutions integrate 3D printing with other intelligent technologies, from augmented reality to blockchain.
RIZE Unveils Smart Spaces for Innovation, Announces New Partnerships
March 27, 2019
With Dassault Systemes as an investor and strategic partner, RIZE says it has developed an end-to-end solution that connects the entire digital ecosystem within a company.
Rize Receives Frost & Sullivan Award for Best Practices in Technology Innovation for Zero-Emissions Polymer Additive Manufacturing
February 11, 2019
Award given to Rize for technology innovation best practices for zero-emissions polymer additive manufacturing.
Rize Partners with Instadesign Group
February 11, 2019
With this announcement, RIZE has introduced its additive manufacturing solutions to the Quebec, Canada, market.
Editor's Picks: Nov. 1-7, 2018
November 8, 2018
One of the picks will be chosen as DE's Editor's Pick of the Week.
Azoth and RIZE Partner for the Additive Indirect Supplies Crib 
June 18, 2018
Production Services Management, Inc. forms wholly-owned subsidiary, Azoth, to provide an on-site additive manufacturing solution with RIZE and Dynamic Detroit.
Engineering's Link to Blockchain
May 1, 2018
The technology associated with cryptocurrency offers new approaches to data security and transaction record integrity.
Rize Launches Digitally Augmented AM Parts
April 9, 2018
Rize APD voxel-level 3D printing includes Digital Rights Management into physical 3D printed parts for compliance, authenticity and traceability.
Partnering on Design for Additive Manufacturing
April 1, 2018
3D design software vendors and 3D printer manufacturers are teaming up to introduce capabilities and create seamless workflows to promote DfAM early.
Post-Processing 3D Printed Prototypes
February 1, 2018
Post-processing a 3D printed part is still a highly manual operation, but new technologies can help reduce both time and cost.
Rize Inc.
January 1, 2018
Rize Inc. is unlocking industrial 3D printing for new markets and driving the next wave of innovation and advancement in product design and manufacturing with the Rize One 3D printer, a versatile industrial-class 3D printer suitable for the office or...
Rize Announces Partnership with Cimquest
October 24, 2017
Rize Inc. reports that Cimquest Inc. is now a Rize Authorized Reseller, via a new partnership between the two companies.
Rize Begins Shipping Rize One 3D Printer
June 23, 2017
The company also reports continued, rapid growth over the last six months.
Latest News
Predicting Structural Instability Due to Plastic Hinge Collapse Mechanism
Designing structures based on conditions where loading results in full plastic yielding that creates structural instability where the structure collapses...
Volkswagen updates classic van with generative design, RoboCup flexes autonomous muscles, more
In this episode of DE Video News roundup, VW uses Autodesk Fusion to reshape Microbus, autonomous robots play soccer, Onshape...
Editor's Picks: July 11-17, 2019
One of the picks will be chosen as DE's Editor's Pick of the Week.
HP Unveils New Performance Options for Z6 Workstations
New configurable options for Z6 G4 workstations feature Intel Xeon W CPUs that are designed for creative workloads like 3D...
All posts