FANUC America Partners With TITANS of CNC to Help Bridge the Skills Gap
March 12, 2020
The education platform offers students the support, education and training to help prepare them for careers in high-tech manufacturing.
3D Printing Company SQ4D Prints 3-Bedroom Home in 48 Hours
January 20, 2020
The home is 1,900 square feet and took 48 hours of print time, over an 8-day period.
Robots Are Going Soft
December 1, 2019
Materials innovations are helping create less rigid, more compliant robotic structures.
Will Robots Find a Place in the Smart Home?
November 1, 2019
For developers and engineers, emerging "social robot" applications are still a work in progress.
Robotics Innovation Challenge Call For Entries Now Open
October 14, 2019
Earn a prize for a new technology or idea that will benefit the wearable robotics Industry.
MathWorks Releases 2019b of MATLAB and Simulink
September 19, 2019
In addition, R2019b introduces new products in support of robotics, new training resources for event-based modeling, and updates and bug fixes across the MATLAB and Simulink product families.
Robotics Engineering Takes to the Seas
September 1, 2019
The International Robotic Sailing Regatta (SailBot) is a robotic sailing competition held in North America.
WIN Enterprises Announces the MB-65040 Mini-ITX with Intel Scalable Skylake Processor
August 23, 2019
MB-65040 supports the Intel Skylake-S CPU and Intel H110 chipset.
SparkFun Works with NVIDIA to Release Two New Kits
August 16, 2019
JetBot AI Kit Powered by the NVIDIA Jetson Nano and a Materials Kit for NVIDIA's "Getting Started on AI with Jetson Nano."
SME, Stratasys Announce Winners of FANUC-Inspired SkillsUSA Additive Manufacturing Competition
July 23, 2019
Six teams—three high school and three college teams—received top honors for the designs they created during the three-day contest.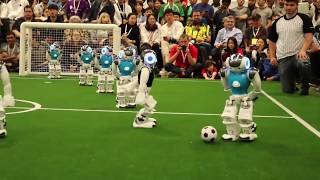 Volkswagen updates classic van with generative design, RoboCup flexes autonomous muscles, more
July 18, 2019
In this episode of DE Video News roundup, VW uses Autodesk Fusion to reshape Microbus, autonomous robots play soccer, Onshape study finds PLM insights, more
Ventura-based XponentialWorks Doubles Size of Innovation Labs
July 18, 2019
Company opens facility focused on creating new manufacturing 4.0 jobs and tech.
Nano Dimension Sells DragonFly Additive Manufacturing System to Istituto Italiano di Technologia 
July 15, 2019
IIT is a research institution in Italy specializing in promoting technological development and higher education in science and technology. 
Contest Helps Spur Student Curiosity in STEM
June 1, 2019
Student Design Competition Profile: BEST Robotics
Omron Helps University of Houston Engineering Students Enhance Skills with New Design and Robotics Laboratory
May 30, 2019
Omron Foundation, the charitable arm of the U.S.-based operations of industrial automation solutions provider Omron, donated a new laboratory complete with workstations and equipment.
Latest News
Keeping Pace With Needs of Workstation Users
Post-pandemic, engineers and designers want a balance between power and form factor for the newest workstations.
RAPID + TCT to Return to West Coast in 2024
AM industry reportedly growing at a rate of 21% through 2027, according to SME.
FREE WEBINAR DEC. 14: Building Shared Context for Effective Digital Twins
In this Rescale webinar, learn how HPC and artificial intelligence can optimize industrial digital twins.
Industry Leaders Shift Strategies to Harvest AI Spring
AI-powered simulation and natural language input poised to become the norm.
Stratasys Partners with Siemens Healthineers
The joint development leverages Stratasys' PolyJet and RadioMatrix technology with Siemens Healthineers' advanced algorithm for scanned patient images.
6K Additive Receives Recycled Content Certification
6K Additive earned the third-party certification from sustainability verification leader SCS Global Services.
All posts