OnScale Tackles Ultrasonic Sensing
May 28, 2019
OnScale releases paper to showcase cloud CAE's role in developing next-generation fingerprint technology for securing smartphones.
Siemens Accelerates Autonomous Vehicle Development With Closed-Loop Simulation
May 23, 2019
PAVE360 extends digital twin simulation beyond processors to include the entire complex ecosystem.
DLR Advances Crack Prediction in Ceramic Matrix Composites Using MultiMech
May 14, 2019
Research designed to reduce development time of novel CMC materials.
Get Cracking with ANSYS Workbench 19.2
May 1, 2019
Walk through a fracture analysis using ANSYS Separating Morphing Adaptive Remeshing Technology.
Congress on the Future of Engineering Software 2019 Begins in Silicon Valley
April 9, 2019
Industry leaders gather for annual COFES event on engineering software for product and building design.
Plugging GPUs into the Metal AM Workflow
April 1, 2019
When it comes to metal-based AM, organizations are looking to harness the power of graphics processing units.
Altair OptiStruct Runs up to 10x Faster on NVIDIA GPUs
March 23, 2019
This speed boost has the potential to impact several industries including automotive, aerospace, industrial equipment, and electronics that frequently need to run large, high-fidelity simulations.
COFES Institute Announces Keynote on Virtual Immersive Realities for 2019 Congress
March 23, 2019
Elizabeth Baron to share experiences from Ford Motor and other companies on using immersive technologies during product development.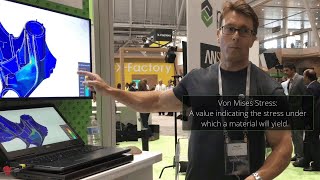 Creo Goes for Real-Time Simulation Feedback
March 19, 2019
Creo Simulation Live embeds ANSYS simulation capabilities directly into the CAD tool interface.
NUMECA Releases OMNIS 3.1
March 18, 2019
One new feature, OMNIS/LB, is a particle-based Lattice-Boltzmann solver for complex and high-fidelity flow simulations.
ASSESS 2019 Congress Open for Registration
March 7, 2019
The ASSESS 2019 Congress, the 4th annual congress, will be held at Chateau Elan Winery & Resort in Braselton, GA, October 27-29, 2019.  
NAFEMS Names Speakers for NAFEMS World Congress 2019
February 12, 2019
The international association for the engineering analysis community launches extensive roster of keynotes for its biennial world congress in Quebec.
Aras Teams up with VCollab to Boost Management of Simulation Results 
February 12, 2019
Aras will use the VCollab technology in Simulation Process & Data Management (SPDM) processes across the lifecycle. 
Distene Releases 2.8 Version of MeshGems
January 21, 2019
New features include support of robust quadratic meshing for all the MeshGems components that is throughout the whole meshing process.
BETA CAE Systems Launches v19.1.0 of its Software Suite
January 14, 2019
This release of v19x provides enhancements in the recently introduced functionality of v19x series.
Latest News
Editor's Pick: New mobile workstations running AMD Ryzen Pro CPUs
Lenovo introduces ThinkPad P14s and ThinkPad P15v, both equipped with the latest AMD Ryzen PRO CPUs.
SIGGRAPH 2022: Intel Launches Professional Workstation GPUs
Intel debuts two Intel Arc Pro-A series professional GPUs for workstations
Global 4D Printing Market Predicted to Grow Markedly
Key companies covered in the 'Global 4D Printing Market' research report by Research Nester are Dassault Systèmes, Materialise, Organovo...
C3D Toolkit 2022 Now Available
The modules in the release provide a solution for building 3D design applications for desktops, mobile, clouds and the web.
All posts