ANSYS 2019 R2 Strengthens Digital Thread Between Design, Engineering and Manufacturing
June 7, 2019
Latest ANSYS release accelerates digital transformation across every industry.
ENGYS Releases ELEMENTS v3.0.0 Software Suite
June 6, 2019
ELEMENTS v3.0.0 is an open-source based CFD software suite for vehicle design applications.
Sponsored Content
How OnScale is Building the Future of Engineering
June 5, 2019
Exactly how does OnScale provide engineers with the capability to innovate much quicker? How are we helping customers bring new technologies such as 5G, IoT, sensors, biomedical devices and autonomous vehicles to market faster than ever before?
Keysight Technologies Enhances Design Workflows with New PathWave Design 2020 Software Suite
June 4, 2019
The new software suite reduces setup time, automates routine tasks, provides faster simulation and analysis, according to Keysight Technologies.
COMSOL Produces Tools to Support Microwave and RF Engineers
June 4, 2019
Tools target those working in 5G, IoT, automotive radars and satellite communications.
Rand 3D Brings Training Solutions to PTC LiveWorx 2019
June 3, 2019
Training and custom documentation solutions help maximize effectiveness of CAD and PLM software implementations.
The New Age of GPU-Driven Product Design
June 1, 2019
Software companies are finding ways to accelerate CAD with GPUs beyond graphics and rendering.
Altair SIMSOLID Walkthrough
June 1, 2019
For this overview, Tony Abbey says he was was able to explore design configurations very rapidly—and this prompted further exploration into alternative configurations such as an integral fitting.
Simulation Transition: Materials
June 1, 2019
It is fundamentally essential to understand how your simulation software incorporates the mechanical properties of materials.
Keep It Simple, Keep Them Coming
June 1, 2019
An easy formula for estimating cost is part of some simulation software providers' strategy.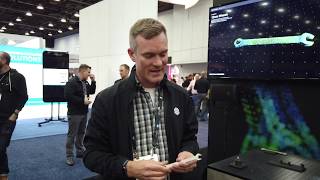 Markforged Debuts Blacksmith Artificial Intelligence (AI) Software for Metal 3D Printing
May 29, 2019
Using artificial intelligence to make automate additive metal manufacturing quality control
HP Launches New 3D Printing Solution, Manufacturing Alliances and Digital Manufacturing Network
May 9, 2019
HP's announcements center on getting 3D printed products to market faster, strategic connections with companies such as Siemens, Materialise and BASF, new TPU material and more.
Verisurf 2019 Software Introduced
May 3, 2019
The software offers enhanced CMM programming, productivity features and universal compatibility.
Sponsored Content
Editor's Pick: Faster Composites Simulation Improves Predicting Carbon Fiber Performance
May 1, 2019
MultiMechanics MultiMech 19.0 composite simulation software specializes in finite element analysis of carbon fiber and other composites.
ParaMatters Upgrades its Generative, Autonomous Design and Lightweighting Software
April 30, 2019
CogniCAD 2.1 autonomous topology optimizer for lightweighting offers enhanced variety of loading conditions, optimization of build orientation. It also features an intuitive, simple user interface that works autonomously and instantly.
Latest News
Chaos Group previews Project Lavina, SimScale releases radiation simulator, Onshape recognized by World Economic Forum
In this episode of DE News Roundup, Chaos Group previews Project Lavina for real time ray tracing, SimScale releases radiation...
AMD Radeon Pro Software for Enterprise 19.Q3 Is Optimized for Professional Applications
The latest driver also continues to prove the value of updating professional drivers, with Day Zero certifications to help ensure...
Moldex3D Partners with Wittmann Battenfeld on LSR Injection Molding and Smart Manufacturing
The memorandum of understanding is aimed at bringing together both parties' extensive knowledge and technical expertise to advance the role...
Siemens Debuts More Tire Modeling Capabilities in Real-Time Environments
The Simcenter Tyre team releases MF-Tyre/MF-Swift 2019.1 with more possibilities to test with MSC ADAMS.
All posts