Top Story
RAPID+TCT 2019 Drives Additive Manufacturing to Next Level in Motor City
Thousands of attendees delve into 3D printing, the future of manufacturing, digital twins, data management and so much more.
How 3D scanning and an underlying hunger to compete is driving the design quest for reverse engineering in global industry.
Resources
Andretti Green Racing Gains Freedom and Function with the FARO Laser ScanArm®
Having the FARO Laser ScanArm® in-house saves Andretti Green Racing time and money.
Featured Companies
Volume Graphics Releases New Generation of CT Software Solutions
July 12, 2019
Updates in 3.3 include multi-material dimensioning, native Q-DAS support, OCR-based automation, and high-quality volume meshing.
Artec 3D Releases Artec Studio 14 with Functionality for Quality Inspection
June 4, 2019
New features include integration with metrology-grade desktop 3D scanner Artec Micro, target-free registration for 3D laser scanner Artec Ray, and Direct Export for CAD/CAM, Automatic Glare Removal.
Artec 3D Launches Artec Micro Industrial Desktop 3D Scanner
May 21, 2019
Scanner promises quality control of small objects, reverse engineering design and more.
Hexagon Shows Off New Metrology Grade 3D Scanning Laser Tracker at RAPID + TCT 2019
May 20, 2019
Hexagon's Joel Martin, product manager of the Laser Tracker product line, will also present "Laser Scanning from Macro to Micro: What to Use, Where and Why" on May 22, at 2 p.m. in the AM Technical Insights Forum track.
NSI Technical Day June 6 Offers Demos of Latest Digital Industrial X-ray Scanning and Inspection Equipment
May 10, 2019
Joining NSI will be experts from Volume Graphics, a CT data analysis software company that will provide insight into the role of CT in digital product lifecycle management.
Artec 3D Launches Artec Micro Professional Industrial Desktop 3D Scanner
May 7, 2019
Scanner offers quality control of small objects, reverse engineering design and more, a solution for the metrology market, company says.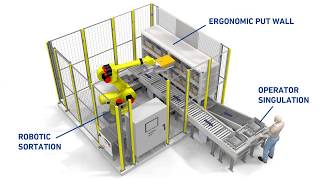 Digital Twins and Cyberphysical Security at AeroDef
May 3, 2019
DE Video News May 3, 2019: Digital twins and cyberphysical security discussions at AeroDef Conf, ANSYS acuires EDA firm
Verisurf 2019 Software Introduced
May 3, 2019
The software offers enhanced CMM programming, productivity features and universal compatibility.
Polyga Expands HDI Compact 3D Scanner Series
April 11, 2019
Polyga adds two more models, the HDI Compact L6 and the C504, to the 3D scanner line.
BigRep Showcases BigRep PRO 3D Printer at Hannover Messe 2019
April 2, 2019
New BigRep 3D printer is automated and 5G connected; showcase marks next step in development partnership between BigRep and Bosch Rexroth.
VeriSurf Debuts Latest Master3DGage 3D Inspection and Reverse Engineering Solution
March 18, 2019
The complete hardware/software solution delivers automated "in-process" inspection to the shop floor.
Hexagon Launches new Laser Tracker Line
March 7, 2019
The ATS600 Metrology-Grade Scanning Laser Tracker provides 3D scanning functionality.
Contex Completes the HD Ultra X Scanner Series with Two Models
February 21, 2019
The series now includes 36- and 42-in. models, completing the range of scanning solutions for Contex's newest line of premium scanners.
FARO Launches FARO RevEng for Design Professionals
February 21, 2019
This is a scan-to-CAD software solution for the FARO Design ScanArm.
Hexagon Kicks off Production Software Business
January 8, 2019
Vero Software, FASys and SPRING Technologies unite under Hexagon brand to strengthen product offerings.
Latest News
Predicting Structural Instability Due to Plastic Hinge Collapse Mechanism
Designing structures based on conditions where loading results in full plastic yielding that creates structural instability where the structure collapses...
Volkswagen updates classic van with generative design, RoboCup flexes autonomous muscles, more
In this episode of DE Video News roundup, VW uses Autodesk Fusion to reshape Microbus, autonomous robots play soccer, Onshape...
Editor's Picks: July 11-17, 2019
One of the picks will be chosen as DE's Editor's Pick of the Week.
HP Unveils New Performance Options for Z6 Workstations
New configurable options for Z6 G4 workstations feature Intel Xeon W CPUs that are designed for creative workloads like 3D...
All posts