Researchers Freeze-Print Graphene Battery Anodes
April 24, 2019
A team at Kansas State University used a freeze printing approach to create sodium ion batteries with hybrid graphene aerogels.
GE Leverages Surrogate Modeling to Slash Design Times
April 23, 2019
AI-driven approach could cut design times by half, evaluate millions of design variations in minutes
Aras Thinks Big about Digital Transformation by Focusing on Process
April 23, 2019
At ACE 2019, Aras shows how configuration management, system thinking and sustainable transformation are guiding the company's expansion.
CIMdata Has Completed its 2019 PLM Status & Trends Research
April 23, 2019
Survey responses suggest that companies implementing PLM find that it is worth the money.
Altair Invites Students to Participate in Electromagnetic Simulation Competition
April 23, 2019
Undergraduate and post-graduate students who have worked on a supervised project in EM engineering are invited to submit an innovative solution to an EM problem.
ASSESS Initiative Says it Made Impression at COFES 2019
April 23, 2019
 ASSESS Initiative's presence included active participation in the program by ASSESS Initiative advocates including Joe Walsh, Andreas Vlahinos, Peter Thorne, Linda Lokay, and Karen Caswelch. 
Weerg Issues 3D Printing Project Award
April 23, 2019
The winner is the Benjamin Nenert, Porsche designer and technician.
Gigabot X Prints from Waste Plastics
April 19, 2019
A team from Michigan Tech has demonstrated the financial viability of printing large items from scrap plastic.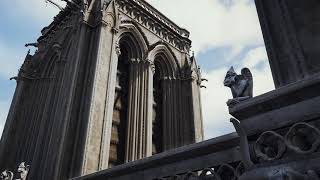 DE News Roundup April 19, 2019: Technology to help rebuild the Notre-Dame, AU calls for papers, more
April 19, 2019
Design software maker and game publisher pledge to help rebuild the Notre-Dame, Siemens release new robotic simulation software, AU calls for paper
Keysight Technologies' V2X Test Solution Earns OmniAir Certification
April 18, 2019
Certification ensures vehicular communication devices and associated software pass global industry requirements for interoperability and compliance.
CATIA CAD System Used for 3D Printing Components for European Aircraft Project
April 17, 2019
For the first time, components can be printed directly from the CATIA V5 CAD system, according to CENIT.
Dassault Systemes, Ubisoft Pledge to Help Rebuild Notre-Dame
April 17, 2019
3DEXPERIENCE software maker and game publisher Ubisoft offer resources, technology for reconstruction
Sintratec donates Sintratec Kit to Southern Union's Additive Manufacturing Program
April 17, 2019
Sintratec's partnership with Southern Union aids the college's intent to offer coursework in advanced manufacturing with the focus on Additive Machine Repair beginning in the fall semester of this year, according to Sintratec and the university.
HP Puts 3D Printed Parts into Its Own Machines
April 16, 2019
AM system maker shifts strategy to test the economics of additive manufacturing
Stratasys Direct Manufacturing Expands Additive Metals Capacity with VELO3D's Sapphire Printer
April 16, 2019
The Sapphire laser fusion metal additive manufacturing system allows for printing of complex part geometries with in-situ metrology, closed-loop control, and low-to-no support structures.
Latest News
Hexagon Releases Latest Update of EDGECAM
New release supports fast 5-axis machining tools; software features barrel cutter support and new gun drilling cycle.
Systems Engineering Software Update Advances Multidiscipline Simulation
Siemens PLM Software releases a full plate of new features in Simcenter Amesim 2019.1. 
Sponsored Content
Editor's Pick: Multi-domain Systems Analysis Just Got Easier
Siemens PLM Software updates Simcenter Amesim with new features in four broad categories.
Researchers Freeze-Print Graphene Battery Anodes
A team at Kansas State University used a freeze printing approach to create sodium ion batteries with hybrid graphene aerogels.
All posts