Top Story
Digital Twins Coming Into Focus
Augmented and virtual reality can help users better understand complex digital twin data.
More CAD, CAE vendors decide to leverage GPUs in product offerings.
Resources
High-Performance Visual Computing in the Data Center Extended to Professionals Everywhere
As the world continues to shift and enterprises across the globe rethink post pandemic infrastructure, enhancing the ability of professionals to work remotely remains top of mind.
More Visualization Resources
Featured Companies
VCollab helps manufacturers realize the full benefits of simulation by making actionable, 3D simulation insights easily accessible to anyone in...
More about
nTopology 3.0, Powered by GPU Acceleration, On the Market
April 26, 2021
An interactive preview of nTopology 3.0 is available for anyone to download by creating a free nTop account.
Bridge the Gap Between CAD and XR With Release of Theorem-XR
April 23, 2021
This latest release sees the Theorem-XR portfolio offering support for Microsoft HoloLens 2.
NVIDIA Launches Omniverse Design Collaboration and Simulation Enterprises
April 12, 2021
Computer makers launch workstations and NVIDIA-certified systems for Omniverse; BMW Group, Ericsson, Foster + Partners, WPP among early adopters.
Report Offers Global Forecast up to 2026 on the Simulation Software Market
April 2, 2021
The simulation software market is driven by factors such as use of advanced technologies for simulation and avoiding production of faulty products to boost the growth of the simulation software market.
Safeguarding Engineering in the Work-from-home Era
April 1, 2021
Securing design data requires a holistic approach that includes both technology and good policies.
RSim 3.0.0 Now on Market
March 9, 2021
RSim 3.0.0 includes multiple enhancements to visualization, modeling and statistical analysis capabilities.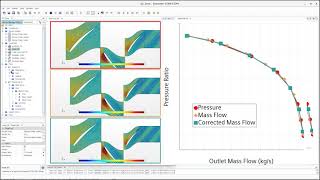 Simcenter STAR-CCM+ 2021.1 Out Now
March 1, 2021
Company to host virtual launch event of Simcenter STAR-CCM+ 2021.1 on March 9, live on LinkedIn.
NVIDIA Announces Financial Results for 4Q
March 1, 2021
Company full-year revenue of $16.68 billion, up 53%.
Fraunhofer IGD Develops Automated Robotic Arm
February 26, 2021
The mobile scanner CultArm3D delivers 3D models of exhibits of various sizes at the push of a button, according to Fraunhofer.
KISTERS 3DViewStation Offers Visualization for Teamcenter Engineering and ActiveWorkspace
February 16, 2021
Features include fast file load, measurement, section, comparison up to clash, clearance, wall thickness, draft angle, undercut analysis for NX, JT, Catia, Creo and more, company says.
Digital Twins Coming Into Focus
January 4, 2021
Augmented and virtual reality can help users better understand complex digital twin data.
VRSquare Licenses Datakit Technology for 3D CAD Data Import
December 28, 2020
Providing interoperability between optimization for AR/VR applications and CATIA V5 3D data
Materialise Introduces VR Capabilities for Medical Planning in Mimics Viewer
December 7, 2020
Interactive VR models complement 3D printing as a faster solution for remote planning and collaboration.
Luxion Releases KeyShot 10
November 23, 2020
KeyShot 10 adds new ​Keyframe Animation and other animation capabilities, new ​Smart Export options for output to full-color 3D prints, AR/Web interaction and more.
HOOPS Toolkits Bring 3D Capabilities to Manufacturing Hub
October 26, 2020
Eurostep brings 3D data access and visualization to its flagship solution, with aim to simplify global manufacturing processes.
Latest News
Creo 8.0 Enhancements Aim to Empower Engineers to Design Products Faster
Latest edition of Creo solves for needs of engineering executives, managers and end users.
Desktop Metal Develops Additive Process for Sustainable Wood Parts
Forust uses additive manufacturing to upcycle wood byproducts for the production of custom and luxury wood products.
3D Systems Unveils Two Strategic Growth Acquisitions 
One acquisition is of the German software firm, Additive Works GmbH, to expand simulation capabilities for rapid optimization of industrial-scale ...
Matsuura Debuts Metal Additive Manufacturing Production Services
The company now offers quick-turn prototyping.
All posts