Top Story
HP ZBook 14u G6 Mobile Workstation: Compact Road Warrior Workstation
This new 14-in. workstation is a great choice for on-the-go engineers.
Intel is joining the discrete GPU market. Here's how to follow the latest news and announcements from the chipmaker.
Resources
Predict 3D Printed Cellular Material Stiffness and Failure Response
Shape Independent Models Predict Behavior of 3D Printed Cellular Materials with 90% Accuracy.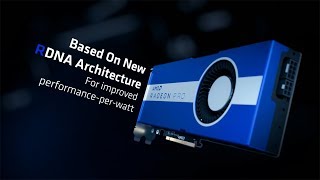 New GPU Enters the 7nm Realm 
December 11, 2019
The graphics processing unit can do more work per watt and do it faster than the previous generation technology.
Sponsored Content
Editor's Pick: Engineering GPU with World-First Specs 
December 11, 2019
AMD Radeon Pro W5700 is a professional PC workstation graphics card designed for 3D designers and engineers using 7nm technology.
Getting Graphic
December 1, 2019
Intel is joining the discrete GPU market. Here's how to follow the latest news and announcements from the chipmaker.
Sponsored Content
Productivity Study: ANSYS Mechanical
November 30, 2019
Simulation run times are up to 4.8 times faster using a current workstation equipped with a powerful GPU compared to an older system.
NVIDIA Announces Scalable GPU-Accelerated Supercomputer in the Microsoft Azure Cloud
November 21, 2019
New Microsoft Azure NDv2 supersized instance can scale to hundreds of interconnected NVIDIA Tensor Core GPUs for complex AI and high-performance computing applications.
BOXX Debuts RAXX P6G Jupiter System at Autodesk University
November 21, 2019
System features a 2nd generation, 64-core, AMD EPYC processor and up to 16 NVIDIA Quadro RTX or Tesla graphics processing units.
Newest Apple MacBook Pro Features AMD Mobile GPUs
November 14, 2019
AMD Radeon Pro 5000M Series mobile GPUs bring high-performance AMD RDNA architecture to Apple's new 16-in. MacBook Pro
Companies, Cities Adopt Use of NVIDIA EGX Edge Supercomputing Platform
October 23, 2019
This platform delivers artificial intelligence to factories, wireless networks, stores and more.
GMS' New Server and AI Engine Set Made for Next-Gen Army Vehicle and Airborne Systems 
October 15, 2019
The vehicle-mounted server combo is ideal for applications requiring massive computation and sensor fusion, the company says.
Consumer vs. Professional Tug of War
September 1, 2019
Can consumer hardware be adapted for professional usage?
Global GPU Shipments up in Q2'19 reports Jon Peddie Research
August 30, 2019
This is the latest report from Jon Peddie Research on the GPUs used in PCs, reporting on the results of Q2'19 GPU shipments worldwide.
Eurocom Launches 17.3-in. Nightsky RX17 Superlaptop
August 20, 2019
It's lightweight at under 2.9 kg/3.4 lbs, with three physical drives available in RAID 0/1 configuration.
Partner Content
Optimize Your Computing Culture
August 6, 2019
Affordable, powerful engineering computing hardware and software is the first step toward an optimized workflow.
Luxion Unveils KeyShot Support for NVIDIA RTX with OptiX
July 29, 2019
KeyShot 9 to support NVIDIA RTX accelerated GPU ray tracing and AI-accelerated denoising through the integration of NVIDIA OptiX ray tracing engine.
Bleeding-edge HPC Power Released By Boutique Computing Vendor
June 12, 2019
Microway NumberSmasher 1U 4 GPU Single Socket Server equipped with "bleeding edge" 2nd Generation Intel Xeon Scalable processors and NVIDIA Tesla-generation GPUs.
Latest News
Coordinate Metrology Society Launches Level-Specific Certification Programs
CMM Operators can earn industry-recognized credentials for their mastery of metrology.
CorelCAD 2020 Accelerates the 2D Drawing and 3D Modeling Experience
Maximize productivity with new intuitive tools and commands.
ASCON Group Releases KOMPAS-3D V18
This CAD program for professionals offers speedier processes, multiple productivity improvements and new functions. 
Bassetti and Senvol Sign New Agreement to Support AM Customers
Senvol Database to be available in Bassetti's TEEXMA for Additive solution.
All posts