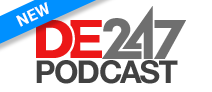 Listen in to
DE's new podcast channel.
Find us on
Apple Podcasts
,
Google Play Music
or Subscribe
via RSS
. Subscribe
via iTunes here
.
Check out our latest episode
.
New SolidWorks CEO Discusses AI, Generative Design, Virtual Twins
March 11, 2022
Long-time R&D veteran Manish Kumar steps up to become CEO, envisions natural interactions driven by AI
Podcast: Transforming the Process of Simulation
January 25, 2022
With VCollab, 3D Digital CAE Reports can be created no matter what major CAE solver a company is using.
Podcast: Better, Faster Engineering Workstations
January 25, 2022
Velocity Micro has nearly 25 years of experience building ultra-fast workstations optimized for CAD, CAM, and other design applications.
Podcast: How CoLab is Modernizing Collaboration for Mechanical Engineering Teams
January 25, 2022
CoLab's web-based platform makes it easy to securely share and review CAD with anyone.
Podcast: Remove Silos, Rethink Designs & Accelerate Your Work on One Platform
January 25, 2022
The 3DEXPERIENCE platform helps users collaborate and share their work, no matter where they are.
Sponsored Content
Podcast: HPC Everywhere
January 20, 2022
In this podcast, we talk to TotalCAE about cloud and on-premises HPC resources
Sponsored Content
Podcast: Additive Manufacturing Without Compromise
January 6, 2022
Velo3D fulfills the original promise of AM by providing a complete end-to-end metal 3D printing solution for mission-critical parts
Sponsored Content
Podcast: Simulate Early and Often
January 6, 2022
Broad access to simulation: it's a matter of survival for engineering teams. SimScale is making it happen —now.
Sponsored Content
Podcast: People, Processes and Technology Orchestration in One Platform
January 5, 2022
ESTECO VOLTA moves to the next level by introducing a business process management layer on top of the Simulation Product and Data Management, and Design Optimization capabilities.
Sponsored Content
Podcast: Ultrafast 3D Design at the Desktop
January 5, 2022
Design engineering teams face tight deadlines and high demands. A digitized, ultrafast 3D print workflow can maximize productivity and exceed quality expectations.
DE Editors' Chat: NVIDIA GTC Fall, Autonomous Cars on Campuses, Haptic Devices at AWE, and More
December 10, 2021
DE Editors discuss news from NVIDIA GTC Fall, Autonomous Cars on Campuses, Haptic Devices at AWE, and More
Sigma Labs on Metal AM's Maturity for Mass Production
October 26, 2021
Sigma Labs VP Jacob Brunsberg discusses QA and Regulatory Challenges
Velo3D CEO Benny Buller on Going Public
October 15, 2021
Metal Additive System Maker joins other 3D printer makers going public
DE Editors' Chat: Velo3D Goes Public, Sustainability Report on Additive Manufacturing, Halloween-Inspired Design, and More
October 7, 2021
DE Editors Brian Albright and Kenneth Wong discuss metal 3D companies going public, news from Rapid + TCT, DE Design and Simulation Summit, and more
A Conversation with DJ Smith, VR Expert
September 16, 2021
The Glimpse Group's cofounder DJ Smith discusses enterprise use cases, the consumer-grade hardware's advantage, visual fidelity required for design review, and more
Latest News
Raymond Weitekamp: In Search of Production-Grade AM Polymer
PolySpectra's founder and CEO Raymond Weitekamp develops resin-based AM material that can go head-to-head with molded engineering plastics.
Reimagining Manufacturing on a Worldwide Scale
Formlabs hosts 1-day event to explore how to accelerate manufacturing's potential in the 21st century.
Digital Metal Launches Industrial Metal Binder Jet 3D Printer
It is developed as a modular component of a complete binder jet solution.
Blackstone Resources Wins Green Product Award 2022
Blackstone's 3D printing, a high-speed multilayer technology, for production of environmentally friendly and high-performance lithium-ion batteries won out of 1,500 competitors...
All posts